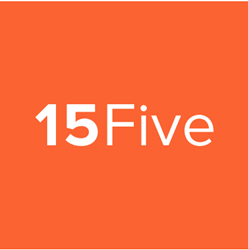 (PRWEB) May 07, 2018
Performance management solution 15Five has been selected by the Center for Positive Organizations as one of the prestigious Gold Awardees of the 2018 Positive Business Project. One of only four organizations chosen as a Gold Awardee, 15Five is being honored for its practices that demonstrate a flourishing work environment—one in which employees feel empowered to speak up.
"We are thrilled to have been selected for such a distinguished award," says David Hassell, 15Five CEO. "At 15Five, we believe that investing in your employees means investing in your business. We are continuing to spread this message as we help shape happier and higher-performing workplaces."
Backed by research in positive psychology, 15Five's continuous performance management system is the driving force behind a management revolution, built around their initial tool—an award-winning 15-minute weekly check-in.
The 15Five check-in uses questions to spark dynamic dialogue between managers and employees that delivers impactful feedback. Managers can use curated question templates or create custom questions to obtain valuable employee feedback. 15Five's curated template includes a research backed framework to clearly identify and track progress on work goals and objectives, as well as a series of questions to surface challenges, celebrate wins, and recognize others. Regular check-ins are shown to significantly improve employee engagement and productivity as well as workplace morale.
The Gold Award was also granted for 15Five's Question Friday. In this unique, weekly culture-building meeting one person asks the team a non-business related question—for example, "If you could relive one experience from your life, what would it be?" By revealing more of who they are beyond their work roles, employees develop deeper connections with their coworkers and a greater sense of belonging on the team.
"The Positive Business Project was established to highlight organizations who are leading the way in creating positive change in the world," says Gretchen M. Spreitzer, Faculty Director at the Center for Positive Organizations. "We chose 15Five because they demonstrate the incredible impact that occurs when you establish an employee-first culture, and they're sharing it with everyone they can. It's organizations like 15Five that allow employees to be their best professional and playful selves."
15Five's award is presented by the Center for Positive Organizations, which is housed within the Stephen M. Ross School of Business at the University of Michigan. 15Five's award will be announced and celebrated at the Positive Business Conference, which takes place May 10-11, 2018 in Ann Arbor, MI.
About 15Five
15Five is a continuous performance management solution that helps employees grow and develop, in just 15 minutes each week. Through a lightweight weekly check-in, 15Five delivers everything a manager needs to impact employee performance, including continuous feedback, objectives (OKR) tracking, recognition, 1-on-1s, and reviews. 15Five is the #1 performance management software out of 150 vendors on G2Crowd, with over 1,400 forward-thinking companies using the solution to bring out the best in their people.
About the Positive Business Project
The Positive Business Project is dedicated to identifying, studying, celebrating, and spreading positive business in organizations of all types. They break down the act of initiating positive change into three buckets, with an eye towards organizational practices that promote: environmental stewardship, community stewardship, and/or employee empowerment. The PBP grounds its understanding of positive change in the UN's Sustainable Development Goals. Each year, submissions to the PBP are reviewed by a panel of students, Ross professors, and business leaders affiliated with the Center for Positive Organizations. Previous winners include UAE Exchange, Team Detroit, General Motors, United Way, Logitech, and Menlo Innovations.