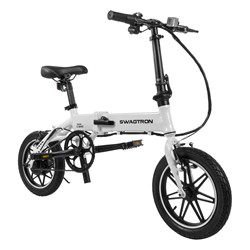 "We're seeing a shift, and electric bikes aren't just for recreation. They're viable eco-friendly transportation and commuting options for people in all walks of life. The EB-5 folding e-bike epitomizes that notion."
COSTA MESA, Calif. (PRWEB) May 04, 2018
SWAGTRON™, the undisputed leader in electric rideables, expands its cycling line with the introduction of the EB-5 electric folding bike, a lightweight city bike perfect for urban commuting.
Building on the success of its UL-certified hoverboards, electric skateboards, electric scooters and the original Swagcycle, the brand seeks to further utilize its expertise in the burgeoning segment by offering electric bicycles that blend technology, performance and value.
"We're seeing a shift, and electric bikes aren't just for recreation," says Director of Marketing Jason Wakefield. "They're viable eco-friendly transportation options for people in all walks of life."
The EB-5 is a lightweight, aluminum folding bike designed for navigating urban landscapes and public transportation. It comes packed with technology and features in a low-maintenance design at a very accessible price point.
Combining a smooth and powerful 250-watt motor with the ability to quickly fold (approximately 10 seconds) to a compact 26 by 23.6 inches, the EB-5 seamlessly blends modern e-mobility with unmatched portability and storage. In fact, it boasts what is perhaps the best size-to-performance ratio on the market.
The engine is engaged via twist-grip throttle or a "pedal to go" mode similar to pedelec. But with the ability to pedal, you can still get your heart pumping and you're never limited by the battery's range alone.
It's the perfect last-mile solution for commuting or recreating in the city. It is light enough to be carried on stairs and elevators, and stores easily, even in the limited space many of us have in the home and office.
SWAGTRON also recently released the EB-6 Youth Electric Fat Bike and Swagcycle PRO compact e-bike.
The EB-5 is available now at SWAGTRON.com
MSRP: $599.99
EB-5 ELECTRIC FOLDING BIKE FEATURES + SPECS
-250-watt motor
-14-inch Wheels
-Height Adjustable for teens and adults
-Folds in approximately 10 seconds
-15.5 mph top speed (motor only)
-15.5-mile battery range
-Use electric or pedal power
-36v Li Battery
-Includes safety bell and reflectors
-Aluminum frame
-26 x 23.6 x 15-inch folded size
-37 pounds
-Pre-assembled
-Available in black or white
GET SOCIAL: @SwagtronUSA
ABOUT SWAGTRON
SWAGTRON is the industry leader in electric rideables, having evolved as the forefront brand in its category. SWAGTRON was celebrated for being one of the first brands of electric rideables on the scene to offer certification by Underwriters Laboratories (UL), an independent consumer product safety company. Every SWAGTRON e-product is tested and approved according to UL standards. SWAGTRON continues to expand and improve its line of innovative rideable products.