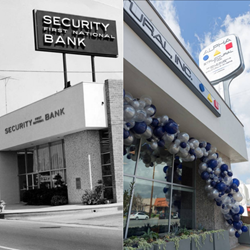 Being an artist, Tourjé was capable of seeing through the neglect and design faults which plagued this building over the years, and envisioned what potential this property held underneath. He looked at the renovation project as his blank canvas, an opportunity to bring art and construction together.
LOS ANGELES (PRWEB) May 04, 2018
Dave Tourjé looked at the renovation project as his blank canvas, an opportunity to bring art and construction together.
The building that Alpha Structural now calls their headquarters, located at 8334 Foothill Blvd in Sunland, was designed by Charles N. Gilbert and engineered by Walter H. Preston in 1957. It was originally built as a 1-story, double-volume, bank building with solid 18" reinforced concrete vault walls, ceilings and floors, accompanied by a 5,000 lb. Diebold steel vault door. Upon completion of the building on May 5th, 1958, the building had exposed brick walls, beautiful mid-century full-height modern windows across the entire storefront and a dropped ceiling to conceal the structural steel beams that were a part of the roof framing system.
Over the years the bank expanded and permitted a second floor to include yet another vault and some administrative offices. After Bank of America bought Security First National Bank, it closed this branch and the building stood unoccupied for many years. Eventually, it went through various tenants who boarded up the storefront windows, dropped the ceiling about 10' from its original double-high space, covered up the original exposed brick walls with thick coats of glossy paint, and generally left the building lacking any of its original aesthetic and leaving any passersby to use their imaginations as to how this building must have looked in the 1950's.
Upon purchasing the building, Tourjé hired Gross Building Design, a small design firm specializing in plan preparation and permit processing in the City of Los Angeles, to start designing the space to fit Alpha's needs. Initially the scope was simple with modifications to the facade, opening up the ceilings and the addition of a 1,400 sq. ft. 2nd story mezzanine. However, Mike Gross, Owner of Gross Building Design, and Dave Tourjé, were not yet pleased with the aesthetic of the property.
Then Dave Tourjé found a photo of the original building showing the beauty and design of the building, whereupon Mike and Dave now knew what needed to be done. This building had to be restored to its original prestige. Tourjé recently stated, "Both my mom and dad retired with Security Pacific Bank after 30 years, and I worked there briefly after college. This branch was only 1 of 2 out of 500 branches whose vault doors were not removed. With all that and once I saw the original photo, I knew we had to take this all the way."
The renovation was just as much about the restoration of original construction, such as the vintage polished mosaic external and internal walls, the unique terrazzo walkways, removing the dropped-ceiling tiles so as to illuminate the aesthetic of the original exposed ceilings, as it was about incorporating a modern mid-century charm. Some modern upgrades include the Clear Vertical Grain Douglas Fir 1x3 Tongue and Groove wall panels, completely remodeled restrooms, an added Staff Café Lunch Room and kitchen with finished concrete flooring and equipped with state-of-the-art appliances.
On March 24, 2018 Alpha Structural opened its brand-new headquarters' doors to the building they now call "home", complete with a Ribbon Cutting Ceremony and 25th Anniversary Celebration on March 24th 2018, wherein approximately 400 guests were in attendance to celebrate the company's achievements over the past quarter century.