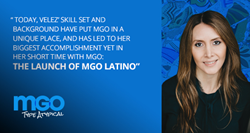 In addition to highlighting her experience and background, the Los Angeles Business Journal was especially impressed by Natalia's hand in launching MGO Latino
LOS ANGELES (PRWEB) May 04, 2018
MGO, one of the fastest growing CPA and Advisory Services firms in the nation, is pleased to announce that Natalia Vélez, a partner with MGO, has been named one of the "Most Influential Minorities" in accounting by the Los Angeles Business Journal. The Business Journal took note of Natalia's unique expertise, writing: "Vélez has over 11 years of experience dealing both with large multinational companies and high-net-worth individuals, a skill set that is rare to find within national and regional CPA firms."
In addition to highlighting her experience and background, the Los Angeles Business Journal was especially impressed by Natalia's hand in launching MGO Latino: "Today, Vélez' skill set and background have put MGO in a unique place, and has led to her biggest accomplishment yet in her short time with MGO: the launch of MGO Latino, making MGO one of the only firms with a team of bilingual and bicultural advisors dedicated to providing specialized and professional services rooted in first-hand experience navigating the business, political, and cultural realities and risks of Latin America."
MGO Latino was created to fill the gap created by today's fast-moving global marketplace where people need advisors that not only understand business, but also have a deep knowledge of the nuances of culture and politics of a specific region. "Natalia's recognition on the most influential minorities list is a testament to her advanced understanding of the regulatory environment and her impressive skillset," said MGO's CEO and Managing Partner, Kevin O'Connell. "The MGO Latino team is an amazing group of professionals, all incredibly well versed in their respective disciplines. Natalia is a huge asset to that team and we couldn't be more pleased."
The professionals of MGO Latino combine their deep expertise in tax, assurance, advisory, business management, and wealth management practices to truly serve the client by delivering sophisticated, holistic solutions.
To read Natalia's profile in the Los Angeles Business Journal, visit http://www.cbjonline.com/a2labj/supplements/InfluentialMinorityCPAS_20180430.pdf
To learn more about MGO LLP's industry leading MGO Latino, visit http://www.mgocpa.com/latino
About MGO LLP
Founded in 1987, MGO (Macias Gini & O'Connell LLP) is one of the fastest growing professional services firms in the country. The firm offers a diverse array of assurance, tax, consulting, staffing, outsourcing and advisory services to clients that range from aerospace and engineering firms, to hospitals and nonprofit foundations – from the largest government entities in the country, to the biggest celebrities in Hollywood.
Media Contact:
Tim Wells
twells@mgocpa.com