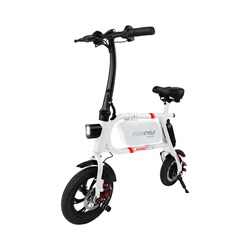 "The world is changing the way it thinks about transportation, and e-bikes are a big part of that. As a brand, we want to continue to be at the forefront of making that technology accessible."
COSTA MESA, Calif. (PRWEB) May 04, 2018
SWAGTRON™, the undisputed leader in electric rideables, expands its e-bike offerings with the introduction of the Swagcycle PRO folding e-bike. The PRO is the top-tier model of the venerable Swagcycle line that marked the brand's first foray into electric bicycles.
Like the original Swagcycle, the PRO is a compact pedal-less scooter bike—perhaps the smallest e-bike on the market—but boasts a new iOS/Android app that tracks speed, battery life, GPS routes and more. The PRO also gets a powerful 350-watt motor for an improved top speed of 18 miles per hour, and an extended battery range of 15.5 miles.
The Swagcycle PRO features an LED headlight, dual disc brakes and a UL certified 36V Li battery that includes a USB charging port for devices mated to its lightweight aluminum frame. A folding stem and handlebar make it a smartly compact folding electric bike that can be easily stowed in the home or office, the back of a vehicle, even carried on public transportation like trains and buses.
"The world is changing the way it thinks about transportation, and e-bikes are a big part of that," says Director of Marketing Jason Wakefield. "As a brand, we want to continue to be at the forefront of making that technology accessible."
Building on the success of its UL-certified hoverboards, electric skateboards, electric scooters and the original Swagcycle, the brand seeks to further utilize its expertise in the burgeoning segment by offering e-bikes that blend technology, performance and value.
SWAGTRON also recently released the EB-5 folding e-bike and the EB-6 youth electric fat bike.
The Swagcycle PRO retails for $600 and is available now at Swagtron.com.
SWAGCYCLE PRO FEATURES + SPECS

350-watt motor
iOS/Android app monitors speed, battery life, GPS route and more
LED headlight
Folding stem/handlebar
USB charging port
18 mph top speed
15.5-mile battery range
12" front wheel / 10" rear wheel
Aluminum frame
Available in black or white
GET SOCIAL: @SwagtronUSA
ABOUT SWAGTRON
SWAGTRON is the industry leader in electric rideables, having evolved as the forefront brand in its category. SWAGTRON was celebrated for being one of the first brands of electric rideables on the scene to offer certification by Underwriters Laboratories (UL), an independent consumer product safety company. Every SWAGTRON e-product is tested and approved according to UL standards. SWAGTRON continues to expand and improve its line of innovative rideable products. RIDE BEYOND.