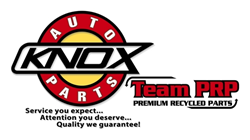 (PRWEB) May 09, 2018
Expanding the family business to Alabama Knox Auto Parts has purchased B&D Automotive as their third automotive recycling facility.
"When the opportunity to move in to the Birmingham market became available we felt it was a natural fit. Strategically the location gives us the ability to be in a large market we feel is under-served and is the perfect distance from Nashville. This will allow us to easily have nightly transfer of parts between our 3 locations having Nashville being the hub for Birmingham and Knoxville," stated Tom Denton, COO and one of three brothers who own Knox Auto Parts.
"We are excited to expand our reach in the Alabama market," said Miranda Ward, general manager of the Birmingham facility. "With 3 facilities fully integrated and the ability to partner with 130 additional Team PRP partners our part availability and service is unmatched in the industry." As members of Team PRP all three locations will have the ability to source parts from across the country with quickness and ease.
Knox Auto Parts is a supplier of recycled auto parts to the professional collision and automotive repair markets. Knox Auto Parts is a family run business started in 1995 employing over 80 employees. For more information on Knox Auto Parts, contact Tom Denton, COO at 888-242-8733, ext. 110 or by email tomdenton(at)knoxauto(dot)com. The company has 3 locations: 8721 Oak Ridge Hwy, Knoxville TN 37931, 443 Dick Buchanan St, LaVergne TN 37086 and 3055 35th Ave, Birmingham AL 35207
Team PRP is a national network of over 130 independent auto recyclers providing premium recycled parts. They specialize in providing top caliber parts to all of North America.