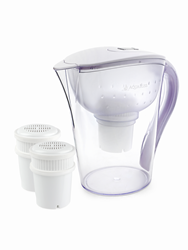 Excellent Quality Water Pitcher! My drinking water has never tasted this good. Thanks for removing that awful taste and smell - Johann S.
WILMINGTON, Del. (PRWEB) May 09, 2018
The latest product from Aquabliss is set to transform the way Americans purify water. The new 10-cup water filter pitcher removes harmful contaminants such as chlorine, metals and sediments, producing beautiful, clean tasting water every time.
The Aquabliss water purification system is the longest lasting in the market, lasting a full four months. This makes it the best value water filter available, outlasting its competitors by a full two months.
Water filtered by the Aquabliss system is guaranteed to be totally free of odors, chlorine, chloramine, mercury, copper, cadmium, zinc, sediment and plenty more unhealthy impurities that can be found lurking in most ordinary tap water.
The Aquabliss water filter pitcher is the fastest and easiest water purification solution to use. Quite simply, you fill the pitcher with unfiltered water and relax while the technology gets to work, filtering out all the grime, dirt and metallic impurities before your very eyes. And with its sleek, stylish design it looks the part on any kitchen countertop.
Not only does the filtered water pitcher produce great tasting water with ease, it's also environmentally friendly. Avoid harmful disposable plastic bottles and enjoy fresh, filtered water in a new sustainable way, thanks to this brand new purification system.
This brand new water filter pitcher has been engineered by experts. The team meticulously and continuously inspects and monitors all Aquabliss water purification pitchers and filters for safety, quality and longevity.
AquaBliss is so confident that customers will be delighted with their new TurboSpa product, that the company is offering a 30 day money back guarantee & for a limited time, customers can save 20 percent by entering WATERF20 at checkout on Amazon: https://www.amazon.com/AquaBliss-Filtered-Water-Pitcher/dp/B078B3HGBG
So, if customers don't feel that their drinking water has been utterly transformed, they'll be able to request a full refund - no questions asked.
To find out more about AquaBliss and their product range, visit http://www.AquaBliss.com or like the AquaBliss page on Facebook to join the growing community of clean water enthusiasts that receive exclusive healthy water information and tips.
To purchase your brand new Aquabliss water purification filter today visit aquabliss.com.