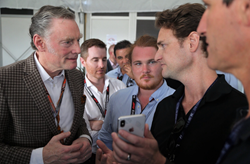 MIAMI (PRWEB) May 06, 2018
Miami-based DROPIT INC., a marketing technology startup, continues its rapid global growth by partnering with the Australian Grand Prix Corporation to kick off the 2018 F1Ⓡ season at the Australian Grand Prix in Melbourne. Hundreds of thousands of fans had the opportunity to use the DROPIT app to compete against one another in an adrenaline-pumping live reverse auction for one-of-a-kind race-day experiences.
The live auction on the DROPIT mobile app runs simultaneously on large digital videoboards, various HDTV monitors throughout the venue, and users' mobile phones. Over 60 seconds, the price of the item rapidly drops with the first person to "swipe up" claiming victory. In Melbourne, DROPIT auctioned exclusive tickets to the official Grand Prix after party, a chance to watch the on-track action from the pit canopy, and behind-the-scenes tours of the track. Fans were able to get these experiences for a fraction of the starting price.
"Partnering with leading global brands is a priority for DROPIT. Formula 1 represents the pinnacle of international motorsport and their plans to reinvent the digital experience for fans resonates with our vision to create adrenaline-pumping experiences that enable brands to form direct, meaningful connections with consumers," said DROPIT COO, Brendan Howell. "Our goal is to create immersive live experiences that fans will talk about well after the event. It's a win-win for all
parties involved."
DROPIT is in talks with other major event operators and event companies to bring the same cutting-edge entertainment experience to fans in North America and Europe. DROPIT enables brand partners to provide attendees the opportunity to bid for exclusive VIP and money can't buy packages that typically sell for upwards of $4,000 or more. One example of a money can't buy experience that DROPIT ran with the Phoenix Suns was an auction for courtside seats combined with a locker room tour.
Since its founding, DROPIT has worked with major brands including the NBA's Phoenix Suns, MLB's Cactus League, Burger King and Air New Zealand to name a few. The company has plans to expand its partnerships to NFL and NHL in the United States, and global brands worldwide.
###
About DROPIT, Inc.
With offices in Miami, New York, Montreal and New Zealand, DROPIT is the market leader in providing users access to travel packages, luxury goods and exclusive live experiences. Staging over 500 live brand activations internationally, to date DROPIT has yielded previously unseen levels of user engagement in the marketing tech space.
For more information, visit https://www.dropit.xyz.
Press Contact:
Rich Laurenson
rich(at)websofthq(dot)com
Tel: 415.671.9343