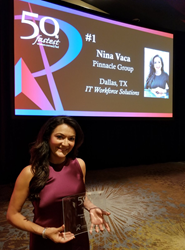 DALLAS (PRWEB) May 04, 2018
The Women Presidents' Organization (WPO) named Pinnacle Group the Fastest-Growing Women-Owned/Led Company in the country. Pinnacle Group Chairman and CEO Nina Vaca accepted the award at the WPO Conference, making it one of only two companies to be named #1 twice in the history of WPO's rankings.
Each year, WPO hosts its annual conference to bring women in business together and to announce its rankings of the top 50 Fastest-Growing Women-Owned/Led Companies in the country. Critically acclaimed actress Viola Davis gave the keynote speech at this year's conference, inspiring the audience on the power of women.
Vaca's story of entrepreneurship is revered across the country. In her mid-20s, she founded Pinnacle Group on the living room floor of her apartment and has since developed it into one of the largest Latina-owned workforce solutions providers in America. Pinnacle offers top-tier IT staffing and consulting, proven solutions to manage contingent workforces, and customized payrolling. This is the second time Pinnacle Group has earned the top WPO spot, along with being named in the top two for the past two years.
"It's such an honor for Pinnacle Group to be named the fastest-growing women-owned business in the country again," Vaca said. "This recognition is attributable to the talents and dedication of the men and women that comprise our family of companies, to the tireless efforts of our advocates, and most importantly, to our many customers who have entrusted us as a true strategic partner – this award belongs to them!"
The Women Presidents' Organization is a renowned membership nonprofit that champions women entrepreneurs across industries. Businesses considered for the 50 Fastest-Growing Women-Owned/Led Companies list must have generated at least $500,000 in revenue per year since 2013.
The Dallas-based firm has previously been recognized for its phenomenal growth by Inc. Magazine and Staffing Industry Analysts for more than a decade.
"I'm proud to recognize Pinnacle Group's explosive growth, spurred by Nina's dynamic leadership and unwavering commitment to excellence," Dr. Marsha Firestone, Founder and President of WPO, said. "Nina is not only an outstanding business leader, but a beacon of aspiration and inspiration for entrepreneurs everywhere."
About Pinnacle Group
Pinnacle Group is a leading provider of information technology services and workforce solutions. Founded in 1996, Pinnacle Group provides innovative IT services to iconic global brands. Consistently named one of the fastest-growing companies in the country by renowned organizations, Pinnacle Group has become one of the largest providers in its industry with thousands of IT professionals providing services across the United States and Canada. For more information, visit http://www.pinnacle1.com.