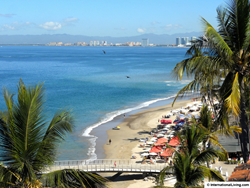 We knew if we stayed in the States, we would need to work full-time for another eight to 10 years
BALTIMORE (PRWEB) May 08, 2018
"Our correspondents on the ground have noticed more younger expats refusing to postpone retirement—opting, instead, to retire early overseas in places where the cost of living is a small fraction of what it is in the States or Canada," says IL Executive Editor, Jennifer Stevens.
"We're seeing younger people at our live events, exploring their retire-early options in person ahead of a move. And our editors and correspondents based around the world report they're running into more folks on the ground, too, who have decided to retire years early overseas.
"The average American hasn't saved nearly enough for a comfortable retirement Stateside," Stevens says. "Conventional wisdom says: Work longer, save more, and lower your expectations for retirement.
"But in the right places overseas, you don't have to do any of that. If you slash your cost of living by half (or more)—you can retire years earlier than you expected. And most folks who've done it say they live better than they ever did back home."
According to the report, the majority of these early retirees can be found in Latin American countries, where the lower cost of living allows U.S. citizens to retire earlier, while still maintaining a comfortable lifestyle with access to the sort of goods and services they're already accustomed to, including high-quality healthcare.
"Five years ago, my husband, Brian, and I decided to pull the pin and move from Ontario, Canada to Cotacachi, Ecuador," says Janette Sullivan. "This is not all that uncommon except that we were 45 and 33 years old respectively."
They bought a two-story, three-bedroom, three-bathroom house in a small development for $61,000. It was originally supposed to be a "five-year plan," but after a few visits they thought, "Why wait?"
"Actually, it was receiving a property tax bill in the mail that really made me say 'why are we waiting?'" Janette says. "It didn't take long after that to make the decision to quit our jobs, sell the house, and pack our four suitcases and two cats.
"People often ask how we can afford to retire so young. It's surprising how much money you make when you sell everything. We made a long-term financial plan, and taking into consideration the money that we made from selling everything, plus our savings, we determined that it was doable if we lived on a budget.
"We set ourselves a budget of $1,800 per month. With the overall cost of living here being much less than Canada, the money goes much further. We could never have afforded to retire and live in Canada at this age. We have yet to exceed our set budget in any given month."
Janette joined a hiking group and started volunteering at a soup kitchen. Here she learned about the culture, and got to know many local Ecuadorians, and also met other expats. Before she knew it coffee dates and "ladies' nights" were part of her regular routine.
Pat and Rick Jackson wanted to retire at 55, and they met their goal—also thanks to moving to Ecuador. They chose the colonial city of Cuenca.
Originally from western New York, the Jacksons have been married for 39 years and for much of that time they planned to retire early. But, "because of the high cost of healthcare and how expensive it is to live in the States, we knew it wouldn't be possible," says Rick. "So, it prompted our move abroad."
Now, instead of Rick's hectic travel schedule as a district manager and Pat's long hours working in banking back in Philadelphia, they spend their time on two of their favorite activities: Rick's passion for cooking, and their love of travel.
"My health is so much better since moving here," says Rick. "My blood pressure and cholesterol are down, and because we eat healthier and walk a lot, we're both in better shape."
And their cholesterol is not all that has fallen since moving to Ecuador. "Living in Cuenca costs about 25% of what it cost us to live in Philly," says Pat.
They pay just $500 a month for their two-bedroom, two-bathroom condo in the Puertas del Sol neighborhood. It's a 10-minute, $2 taxi ride or a 25-cent bus ride into the town center, and a 12-minute walk to Supermaxi, a large North American-style grocery store.
And, given the wonders of modern technology, staying in touch with family and friends back home is a breeze. "Even 3,000 miles away from Philly, we know more about what is happening with our family and friends than when we were working 60 hours a week," says Pat.
Nita Sosebee and Bernie Gaider lived in Colorado Springs before moving to Panama in January 2017. They both worked for over 20 years as software developers but the thought of working for the foreseeable future wasn't appealing.
"We were interested in trying out an early retirement, or at least reducing our work hours," says Nita. "But we knew if we stayed in the States, we would need to work full-time for another eight to 10 years. We also thought that moving to a foreign country would be an adventure, provide the opportunity to learn a foreign language, and be a good learning experience overall."
The couple has decided to rent in David, Panama, until they get to know the region better. But for now, they have seen a huge positive change in their lives.
"Our lifestyle is just so much more relaxed than it used to be. And eating more at home and being active has been a boon for our health. We've become friends with many wonderful people and our life here continues to evolve and improve.
"We chose David, in Chiriquí province, because we liked the variety that it provides. We can be at the beach, in a city, or in the mountains within an hour's drive."
For Marcia Gage and her husband, Judd, after nearly 10 years of marriage, they decided it was time to a change from Minneapolis. They often vacationed in Puerto Vallarta, Mexico, just a four-hour flight away, and decided to retire early to the coastal resort town. They even discovered they can live in Puerto Vallarta on their Social Security alone.
"I didn't love my high-stress job or the fact that our cost of living seemed to be getting higher," Marcia says. "We are avid travelers who've been all over, but a place we vacationed in many times was Puerto Vallarta. We kept going back for the incredible weather, proximity to the U.S. and the very reasonable prices for accommodation, food, and the all-important cervezas, so we decided it'd be a good place to retire.
"Originally, we planned to retire to Mexico when I started collecting Social Security at age 62. But my stressful academic-advisor job was wearing on my physical and emotional health. So, we decided to take the plunge and leave shortly before my 61st birthday."
Now, they rent a condo about a 15-minute walk from the center of town and Puerto Vallarta's Bay of Banderas with spectacular mountain views from the rooftop for $800 a month.
"Our cost of living in Puerto Vallarta for things like groceries and eating out is about half what we paid in Minneapolis," Marcia says. "We've even discovered that we can manage living on our Social Security.
"Moving to Puerto Vallarta allowed me to quit my stressful job and retire early. Now I have time to indulge in my passions for writing and reading, and enjoy all that this beautiful beach town has to offer."
More information on retiring early can be found here: Want to Retire Early? Here's How
Editor's Note: Members of the media have permission to republish the article linked above once credit is given to Internationalliving.com
Further information, as well as interviews with expert authors for radio, TV or print, is available on request. Photos are also available.
For information about InternationalLiving.com content republishing, source material or to book an interview with one of our experts, contact PR Managing Editor, Marita Kelly, +001 667 312 3532, mkelly(at)internationalliving.com
Twitter: @inliving
Facebook: https://www.facebook.com/International.Living/
About International Living
Since 1979, Internationaliving.com has been the leading authority for anyone looking for global retirement or relocation opportunities. Through its monthly magazine and related e-letters, extensive website, podcasts, online bookstore, and events held around the world, InternationalLiving.com provides information and services to help its readers live better, travel farther, have more fun, save more money, and find better business opportunities when they expand their world beyond their own shores. InternationalLiving.com has more than 200 correspondents traveling the globe, investigating the best opportunities for travel, retirement, real estate, and investment.