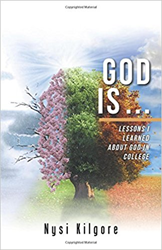 College is a time of transition and transformation.
ATLANTA (PRWEB) May 07, 2018
In the U.S., an employee with a college degree earns approximately $630,000-$900,000 more in gross median income than someone with only a high school education. So why do thirty percent of college students drop out during their first year of school?
In "God Is… Lessons I Learned about God in College," author Nysi Kilgore provides a guide for navigating the challenges of college and early stages of adulthood, while nurturing a more intimate spiritual relationship with God.
"Anxiety, depression and emotional inability to cope are some of the biggest reasons students drop out of college," Kilgore said. "I went to college expecting the best four years of my life. Instead, I faced constant stress, separation anxiety and loneliness. My experience inspired this book, as well as my career."
At just 16 years old, Kilgore became an ordained minister and, at 17, was the youngest person to graduate from her private, Christian high school. Now 20, she already holds a bachelor's degree in psychology and is working toward her master's in Marriage and Family Therapy. She is also the founder and CEO of Rooted Anchor, a faith-based community for encouraging students toward completing their personal and professional goals.
"College is a time of transition and transformation," Kilgore said. "If we are open and willing to grow, we can find purpose on the other side of struggle."
"God Is…"
By Nysi Kilgore
ISBN: 978-1-9736-1310-7
Available at the Westbow Press Online Bookstore and Amazon
About the author
Nysi Kilgore is an entrepreneur and founder of two companies: Rooted Anchor and Compassion in Crisis in Atlanta, Ga. She graduated high school as valedictorian and the youngest person to graduate from her private, Christian school. Licensed and ordained as a minister of the Gospel at only 16 years old, Kilgore wrote her first book while she was still a teenager. At just 20 years old, Kilgore holds a Bachelor of Arts in psychology from Lee University (Cum Laude) and is a first year Master of Science student in Marriage and Family Therapy at Lee University. She is a sought-after speaker and author, known internationally for her pure heart, her love for God, and her genuine compassion for people. Kilgore is passionate about teaching youth and young adults to be honest with their feelings and emotions, preparing them for life transitions, and encouraging them to adopt a life-long love for the nature of God. To learn more about the author or her book, please visit https://www.rootedanchor.com/.
###
Review Copies & Interview Requests:
LAVIDGE – Indianapolis
Lindsey Gobel
317.435.2116
lgobel@lavidge.com