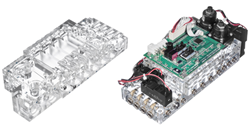 Take your design from blueprint to brilliance.
(PRWEB) May 08, 2018
Register HERE.
Advancements in life science instrumentation and medical devices are occurring at a rapid pace. A new wave of technology with increased fluidic complexity relies on precise fluidic system design and quality manufacturing as the cornerstone of performance.
We will explore the requirements and considerations of fluidic system design for manufacturability to ensure robust, reliable outputs of these critical devices.
This presentation will focus on:
·Common components and their trade-offs in life science and medical device fluidic systems
·Integration of a complete fluidic sub-assembly for size, cost, and leak point reduction
·Designing for manufacturability
About the speakers:
Sean Madden
Field Sales Engineer
IMI Precision Engineering
Sean Madden has worked as a fluidics design expert for 6 years. He holds a B.S. in Mechanical Engineering from the University of Massachusetts Dartmouth and a M.S. in Engineering Management from Western New England University. Sean is currently a Field Sales Engineer with IMI Precision Engineering, and previously held a Lead Mechanical Engineer role where he designed fluidic systems for start-up and Fortune 500 companies. He has extensive knowledge in designing layered manifold solutions and complex fluidic assemblies for Biotechnology, Medical Device, and Diagnostic systems.
John Debrito
IMI Precision Engineering Life Sciences
Business Unit Manager
John DeBrito is a Business Unit Manager with IMI Precision Engineering Life Sciences. He holds a B.S. in Mechanical Engineering Technology from Central Connecticut State University and has 25 years of fluidics manufacturing experience. John also has Shingijutsu lean manufacturing training along with APICS supply chain management training.
About IMI Precision Engineering:
We are a world leader in motion and fluid control technologies. Wherever precision, speed and engineering reliability are essential, we deliver exceptional solutions which improve the productivity and efficiency of our customers' equipment.
As a business, we aim to understand our customers' challenges. We then connect our products, people and expertise in order to deliver exceptional service and solutions. These improve the performance of our customers' machinery.
We call this Engineering GREAT, and we deliver it to customers through a world-class portfolio of high performance products, through close partnerships and problem-solving, and through a global network of support which ensures reliable local delivery, all over the world.