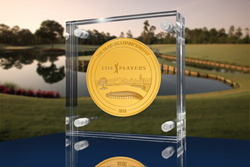 LOS ANGELES (PRWEB) May 07, 2018
The second series in Rosland Capital's exclusive PGA TOUR coin collection commemorates THE PLAYERS Championship, held at TPC Sawgrass May 10-13, 2018.
These beautiful, limited edition coins featuring the iconic island 17th green are only available from Rosland Capital. To celebrate the coins' debut, Jhonattan Vegas, a three-time PGA TOUR champion and member of the 2017 Presidents Cup International Team, will use a unique 1.5-oz gold specimen coin minted by PAMP SA as his ball marker throughout the tournament.
In addition, Rosland Capital will give away one 1.5-oz silver specimen coin Wednesday through Sunday of the tournament. Fans have the opportunity to sign up for the contest at the PGA TOUR Fan Shop at Nicklaus Entry. Fans who sign up will also be entered to win the grand prize on Sunday of a .25 oz gold PLAYERS Championship coin ($330 value). Vegas will also give four coins away throughout the week to his followers on Twitter and Instagram.
The coins are legal tender and bear a portrait of Her Majesty Queen Elizabeth II on the obverse. These collectors' items are specially minted as proofs, their highest level of quality, by the world-famous, Swiss-based PAMP SA.
The coins in this series are currently available in ¼ oz gold, 1.5 oz gold, and 1.5 oz silver, in very limited quantities, in addition to a kilo gold coin, of which only five will ever be minted. The gold coins are 999.9 fine gold, while the silver coins are 999.0 fine silver.
The protective packaging for each coin features the beautiful 17th hole, echoing the design on the coin itself. Shown on the back of each package, which provides a numbered certificate of authenticity, are statements of metal purity and weight, and the signature of the Swiss Assayer Fondeur who assures the quality of the production.
A 1.5 oz silver coin is included at no charge with the purchase of each 1.5 oz gold coin – each set comes in a handsome presentation case. No more than 500 sets will be offered. Silver coins are also available separately in a limited edition, as are the ¼ oz gold coins.
Rosland Capital CEO, Marin Aleksov, took the lead in presenting this new range of PGA TOUR coins: "We're very proud of these beautiful coins, and look forward to showing them to PGA TOUR fans at TPC Sawgrass during THE PLAYERS Championship. It should be a great event."
For more information, please visit https://www.roslandcapital.com or call 1-800-695-7585 for the United States and 0800 902 0000 for the United Kingdom.
About PGA TOUR
By showcasing golf's greatest players, the PGA TOUR engages, inspires and positively impacts our fans, partners and communities worldwide.
The PGA TOUR co-sanctions more than 130 tournaments on the PGA TOUR, PGA TOUR Champions, Web.com Tour, PGA TOUR Latinoamérica, Mackenzie Tour-PGA TOUR Canada and PGA TOUR Series-China. Members on the PGA TOUR represent the world's best players, hailing from 25 countries (85 members are from outside the United States). Worldwide, PGA TOUR tournaments are broadcast to more than 1 billion households in 226 countries and territories in 23 languages. Virtually all tournaments are organized as non-profit organizations to maximize charitable giving. In 2017, tournaments across all Tours generated a record of more than $180 million for local and national charitable organizations, bringing the all-time total to $2.65 billion.
The PGA TOUR's web site is PGATOUR.COM, the No. 1 site in golf, and the organization is headquartered in Ponte Vedra Beach, Florida.
About Rosland Capital
Rosland Capital is a leading precious metal asset firm that sells all the popular forms of gold, silver, platinum, palladium and other precious metals. Founded in 2008, US-based Rosland Capital LLC has an A+ rating from the BBB and strives to educate the public on the benefits of buying gold, including premium and numismatic gold coins, as well as silver, platinum, palladium and other precious metals. For more information on Rosland in the US, please follow Rosland Capital on Twitter, and for news and commercials, subscribe to Rosland Capital on YouTube.
About Jhonattan Vegas
Jhonattan Vegas is a 3-time winner on the PGA TOUR. The native Venezuelan has represented his home country in various team events including the World Cup of Golf in 2009 and 2016 as well as the 2016 Summer Olympics in Rio. Jhonny became the first player from Venezuela to compete in the Presidents Cup (2017). He is also the highest ranked Latin American player (OWGR). Vegas is a paid endorser for Rosland Capital, using the PLAYERS Championship edition 1.5-oz gold specimen coin minted by PAMP SA as his ball marker throughout the tournament at TPC Sawgrass May 10-13, 2018.
Contact: Andrew Gledhill, Chief Marketing Officer - Rosland Capital
Agledhill@roslandcapital.com (310) 593-2200