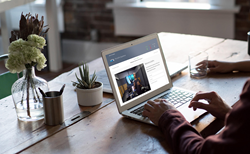 "If you can turn a camera on, you can create a course," said Fritz Brumder, Brandlive founder and CEO. "Now more than ever, employees are wanting to move away from classroom-style educating to a more agile and personalized learning experience. We designed this learning platform with today's customer
PORTLAND, Ore. (PRWEB) May 07, 2018
ATD International Conference & Exposition — May 7, 2018 — Brandlive, the omni-channel live video platform for brands and retailers, has announced its video learning platform on the same day as the world's largest event dedicated to training and development: the ADT International Conference & Exposition. The Brandlive Video Learning Platform allows brands and retailers to create live video and on-demand video courses with built-in interaction, utilizing the right kind of quizzes and polls to ensure content is resonating with their intended audiences. A live video event diving into the new platform will broadcast on May 24, 2018 at 12 PM PDT, for more information visit: https://marketing.brand.live/c/brandlive-video-learning-platform
With more than 200,000 lessons already completed during the Video Learning Platform's beta period, the company has fine-tuned a video-first solution that makes it easy for brands to create courses for training and development. Companies can now offer customized lessons featuring live or previously recorded videos, complete with quizzes and incentives for completing courses. Courses can be accessed and completed from a web browser or via the free Brandlive mobile app.
One Brandlive customer that has found success with the Video Learning Platform is Premium Retail Services, a leading retail solutions provider that uses Brandlive to train its team of in-store merchandisers, brand advocates and retail associates in depth.
"We recently adopted Brandlive's Video Learning Platform and have found that its agility and ease of use enables us to deliver training that is more effective and resource efficient," said Brandon Braun, Director of Training for Premium Retail Services. "The value that Brandlive brings to our organization is continuing to grow, and we are already looking for new areas to expand into using the service."
The Video Learning Platform is integrated into the Brandlive platform for easy lesson and course creation, providing trainers with access to metrics that track individual progress. Now training leaders can utilize an interactive video platform that will improve their employees' training experiences, while increasing engagement, product knowledge and even retention.
"If you can turn a camera on, you can create a course," said Fritz Brumder, Brandlive founder and CEO. "Now more than ever, employees are wanting to move away from classroom-style educating to a more agile and personalized learning experience. We designed this learning platform with today's customer in mind."
Brandlive Video Learning Platform Benefits:

Seriously simple, yet effective: eliminate the suffering and dread of yet another Learning Management System (LMS) with streamlined, video-based learning that actually works
Watch, click, complete: video-first learning with mobile access, which your users will thank you for
Interactive and incentivizing: with integrated polls, quizzes and instant rewards, the results just happen
Metrics for all: easily track progress and certifications at all levels, from individual participants to entire organizations
Both live and on-demand: launch with live to create excitement and maximize interaction, while offering on-demand video for long-tail learning
Findings from a recent Brandlive and IBM Cloud Video survey found that companies adopting video to train salespeople and associates are among the top-rated use cases for live video ROI. In the past 12 months, 56 percent of respondents used live video to train retail associates, 50 percent used it to train sales representatives, and 47 percent used it to train customer service representatives.
To learn more about the Brandlive Video Learning Platform, please visit https://www.brand.live/platform/video-learning
About Brandlive, Inc.
Brandlive provides an omni-channel live video platform for brands and retailers to modernize their training, marketing and eCommerce events. The end-to-end live video platform enables brands to connect their best product experts and influencers directly to global digital audiences, who can then interact with those experts. Customers such as GoPro, The North Face, REI, eBay, Walmart, and Cabela's have used Brandlive to launch products, increase eCommerce sales, create innovative live marketing programs, and conduct more cost-effective internal events and training. Brandlive is headquartered in Portland, OR and found online at http://www.brand.live.