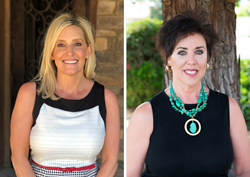 At McCaffrey Homes, we are proud to earn the loyalty of caring and dedicated team members like Shelle and Janice. They are among our greatest assets and we are pleased to recognize their service. – Karen McCaffrey, vice president, McCaffrey Homes.
FRESNO, Calif. (PRWEB) May 08, 2018
McCaffrey Homes – a leading local third-generation family homebuilder in California's Central Valley – has honored two valued employees for ten years of service.
Shelle Hartmann, purchasing manager, and Janice Tognotti, a community sales associate, have each completed a decade of service for the builder of new homes in the Fresno area.
Hartmann's ties to McCaffrey Homes started early. She grew up in a former model home built by Bonadelle Homes, a firm founded by John Bonadelle. His daughter, Karen McCaffrey, is vice president of McCaffrey Homes.
During her first ten years with McCaffrey Homes, Hartmann has worked on 16 new home communities and 38 model homes for the firm—helping to build and close 2,000 homes.
"While I love every community I've worked on, Braden Court is my favorite," Hartmann said. "Not only was it the first community I was part of from the development side, the Brock floor plan and model home was named after my son."
Shelle Hartmann began her career at McCaffrey homes as an escrow coordinator and escrow manager, handling each step in the escrow process for homebuyers. As purchasing manager, Hartmann now oversees all bids and contracts with trade contractors and suppliers – including both standard features and upgrades offered in each home.
"I take pride in receiving feedback from our homebuyers and acting upon it, to incorporate the features that our homeowners are looking for," Hartmann said.
As a sales associate, Janice Tognotti has assisted homebuyers in seven communities and sold 800 new homes – working with each buyer every step of their new home journey.
"Madison Place is my favorite community," Tognotti said, "not only because it was my first with McCaffrey Homes – but also because we closed a home sale every day for 100 consecutive days."
A native of Madera, Tognotti and her husband have two sons, one currently serving on active duty overseas in the Air Force and another in college. Their miniature schnauzer, Shelby, is still at home and is the center of attention, according to Tognotti.
"The best part of my job is assisting and informing our homebuyers every step of the way – to answer questions for them and explain the process – right up to the day that they close and receive the keys to their new home," Tognotti said.
Tognotti is also proud to be part of a sales team that has been recognized for the highest referral rate ever recorded among more than 1,000 top builders across the nation, according to the Eliant survey of homebuyers. Comments from Tognotti's customers reflect that.
"Janice was phenomenal! I couldn't have imagined a better person to walk me through my first new-build home purchase," said one homebuyer.
When asked what each looks forward to next, both Hartmann and Tognotti agreed – continuing to serve homebuyers and McCaffrey Homes for many years to come.
"At McCaffrey Homes, we are proud to earn the loyalty of caring and dedicated team members like Shelle and Janice," Karen McCaffrey said. "They are among our greatest assets and we are pleased to recognize their service. We thank them for their many contributions to our team and for making a positive impact on the lives of our homeowners."
About McCaffrey Homes
McCaffrey Homes is dedicated to building homes that last a lifetime, while meeting the needs of homebuyers at every stage of life. With three generations of experience, the McCaffrey team has built more than 9,000 homes and been honored nationally and locally for the quality of its construction and service.
Currently, McCaffrey Homes is building three neighborhoods in Madera and Clovis, California: the Santerra and Ivy neighborhoods at Riverstone, a new master-planned community in Madera, and Santerra Clovis, the company's newest community in Clovis, Calif. McCaffrey has also broken ground on Tesoro Viejo, their own 1,600-acre master-planned community in Madera, which won the 2016 Outstanding Planning Award in Innovation in Green Community Planning.
For more information, visit https://www.mccaffreyhomes.com/ and http://www.tesoroviejo.com/.