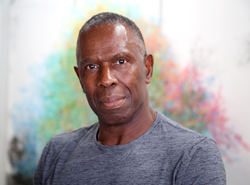 "[Charles Gaines'] contributions as an artist, educator, and advocate reach far beyond the borders of LA. [Njideka Akunyili] Crosby is a new force, and obviously one to be reckoned with. It's going to be a special evening." — Jonathan T. D. Neil, director of Sotheby's Institute of Art – Los Angeles
CLAREMONT, Calif. (PRWEB) May 07, 2018
One is a recent transplant from Nigeria whose figurative work employs a colorful and richly layered visual language. Another is an established Los Angeles artist committed to employing rules-based systems to generate imagery.
But the practices of both internationally acclaimed artists, Njideka Akunyili Crosby and Charles Gaines, explore fundamental questions about representation, how histories are embedded in imagery, and the role of the artist in society.
An exclusive collaboration between Sotheby's Institute of Art – Los Angeles at Claremont Graduate University and The Broad Stage will join these related but distinct voices for the first time in a public forum during an exclusive May 21 event in Santa Monica. "Artists Talk: A Conversation with LA Artists" is the second program in a series of talks with influential California-based artists, established to explore the living legacy of Los Angeles' vibrant contemporary art scene.
"I am particularly enthusiastic about having these two artists come together to discuss their practices," said Jonathan T. D. Neil, director of Sotheby's Institute of Art – Los Angeles. "I have long admired Gaines' work. His contributions as an artist, educator, and advocate reach far beyond the borders of LA. Crosby is a new force, and obviously one to be reckoned with. It's going to be a special evening."
Crosby and Gaines will talk about their creative process, histories, and lives, while also addressing the significance and specificity of Los Angeles as a creative context for their work. Through different means, both address themes of cultural meaning and hybridity, critically challenging how significance is attributed and defined, or, for that matter, disavowed.
arts.ucdavis.edu/lecture/anne-ellegood [Anne Ellegood __title__ ], senior curator at the Hammer Museum, will serve as the talk's moderator.
Crosby was born in Enugu, Nigeria, and lives and works in Los Angeles. Her work has been exhibited in solo and group exhibitions, including at the Whitney Museum of American Art, the Studio Museum in Harlem, the Hammer Museum, and the Norton Museum of Art in West Palm Beach, Florida.
In 2017, she was named a MacArthur Fellow, and this September she will undertake a commission at Brixton station in London as part of the Art on the Underground's year-long program of women artists.
Gaines is highly regarded as both a leading practitioner of conceptualism and an influential educator at the California Institute of the Arts. He is celebrated for his works on paper and acrylic glass, photographs, drawings, musical compositions, and installations that investigate how rule-based procedures influence representation and construct meaning. Gaines has had over 80 one-person shows and several hundred group exhibitions in the United States and abroad, and his work is collected internationally, including at the Museum of Modern Art in New York, Whitney Museum of American Art, the Studio Museum in Harlem, and the Los Angeles County Museum.
His recent honors include the 2013 John Simon Guggenheim Memorial Foundation Fellowship and the 2015 CAA Artist Award for Distinguished Body of Work. This year, he was named the recipient of the REDCAT award, an honor given to leaders in contemporary art.
Purchase tickets online for the talk.
Sotheby's Institute of Art is the Graduate School of Art and its Markets with campuses in the cultural capitals of London, New York, and Los Angeles (in partnership with Claremont Graduate University's Drucker School of Management), as well as a range of online course offerings. Originally conceived as a training program for connoisseurship by Sotheby's Auction House in 1969, Sotheby's Institute has pioneered the education of arts professionals and is today one of the most prestigious degree-granting institutions of its kind. The Institute has more than 6,000 alumni worldwide who hold top positions in all facets of the international art world.
The Peter F. Drucker and Masatoshi Ito Graduate School of Management prepares leaders with powerful, ethical, and universal management skills. We offer customizable programs grounded in the guiding principles of Peter Drucker, the father of modern management. Our global network is composed of bold individuals who are leading organizations, impacting society, and making positive changes worldwide.