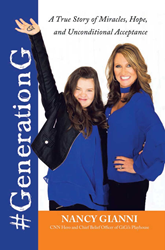 "I wrote this book to inspire parents, young adults, business leaders and beyond to find their inner strength to propel them into action to not only change themselves, but also make the world a better place!" - Nancy Gianni
CHICAGO (PRWEB) May 07, 2018
Meet Nancy Gianni, a real life Wonder Woman who is the founder and Chief Belief Officer of the acclaimed GiGi's Playhouse Down Syndrome Achievement Centers and dynamic mother of four. With her inspirational new book, "#GenerationG – A True Story of Miracles, Hope & Unconditional Acceptance," Gianni is emboldening readers to know if she can do it, they can do it too, as she chronicles the life changing moments that gave her the determination and inspiration to open GiGi's Playhouse.
Empowered to make a difference in the world after her beautiful daughter GiGi was born with Down syndrome, Gianni utilized her entrepreneurial drive and feisty spirit to get things done and make change happen. GiGi's birth sparked a remarkable journey of miracles, hope and unconditional love that led to Gianni founding the GiGi's Playhouse empire where she serves as both head of a $10 million not for profit as well as the visionary leader behind their dramatic growth serving hundreds of thousands for free.
Possessed with over-the-top energy and drive, Gianni does not let anything get in her way with her book empowering others to do the same by demanding change and taking action! She also started the global movement #GenerationG which motivates and encourages others to make a conscious decision to be better every day and acceptance for ALL!
"I am living proof that miracles do exist," said Gianni. "They're not always pretty or easily seen, but it's what you do with the pain that brings the miracle to the forefront. I wrote this book to inspire parents, young adults, business leaders and beyond to find their inner strength to propel them into action to not only change themselves, but also make the world a better place!"
GiGi also makes a guest appearance in the book providing a touching handwritten introduction that doubles as a call to action. All profits from the sale of "#GenerationG" will go toward GiGi's Playhouse to further their mission of global acceptance for all through Generation G. For more information please visit http://generationgstory.org.
"#GenerationG – A True Story of Miracles, Hope & Unconditional Acceptance"
By Nancy Gianni
ISBN: 978-1-5320-4221-8 (sc); 978-1-5320-4223-2 (hc); 978-1-5320-4222-5 (e)
Available at ShopGiGisPlayhouse.org & Amazon
About Nancy Gianni
Author Nancy Gianni is the Chief Belief Officer and founder of GiGi's Playhouse Down Syndrome Achievement Centers as well as a sought-after public speaker. As the dynamic force that is changing the disability world, Gianni's story was featured recently on the Today show and on CNN where she was named a CNN Hero in 2016. With 36 GiGi's Playhouse locations across the U.S. and Mexico, and a demand to open 200 more worldwide using her replicable model, Gianni has no choice but to stay at the top of her game. GiGi's Playhouse is the ONLY international network of Down Syndrome Achievement Centers created to provide FREE life-changing therapeutic and educational programs for all ages. Gianni resides in South Barrington, Illinois with her husband and their four children.
For Interview Requests, Book Review Copies & General Inquiries:
LAVIDGE
Lauren Dickerson
480-306-7117
ldickerson@lavidge.com
LAVIDGE
Danielle Grobmeier
480-648-7557
Dgrobmeier(at)lavidge.com