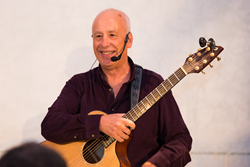 Barrie Tracey, recipient of the 2009 Lifetime achievement award to journalism from NAPA said "I have been a big fan of Nemo's for many years and how fitting that the vehicle of his success looks like being a song dedicated to his long time hero James Taylor who is also one of my favourites".
DUBROVNIK, Croatia (PRWEB) May 11, 2018
40 years ago Nemo James, singer songwriter and author of the autobiography "Just a Few Seconds" sat in front of a record company executive playing his latest compositions. He was told the songs were very good but there was no market for his James Taylor style of music. Fast forward four decades and James Taylor is still recording and selling out concerts while all the other music fads have come and gone.
After a 35 year detour following that advice Nemo James is finally gaining recognition after returning to his original style which is a unique fusion of the different genres he played as a session guitarist but still in the James Taylor camp. In his latest album "Weave" Nemo James thanks James Taylor for being a friend by including a tribute song to the great man entitled Thank you James which tells his story while integrating titles from James Taylor's most popular songs.
There can be few singer songwriters alive who have been been so dedicated for so long but after 45 years since writing his first song it looks like Nemo James is finally getting the recognition he deserves.