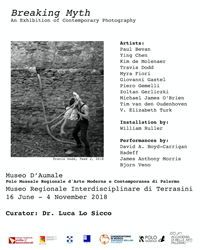 We believe that Art education helps and gives a better future to children; gives them the ability to resolve problems, overcome obstacles, and helps them to understand and communicate with the world.
ATLANTA (PRWEB) May 07, 2018
Fourteen American and European artists have been selected to present Breaking Myth at the Museum Palazzo d'Aumale in Palermo, Italy this coming June as part of Palermo capitale della cultura 2018 and Manifesta 12, the world's only nomadic biennial of contemporary art and culture.
Breaking Myth's central theme is metamorphosis as both the literal and metaphorical definition for positions in contemporary photographic art. Under the creative direction and curation of Dr. Luca Lo Sicco, the work has been selected based on the choice of material, methodology, and imagery which follows the concept of Breaking Myth and also supports the theme of Manifesta 12, "The Planetary Garden. Cultivating Coexistence." Both ideas explore global coexistence and ever-increasing inequalities that are often based on historical myth. Travis Dodd creates work based on benched rituals where the line between myth and reality is thinned and penetrable. In Murmurs, he archives by recording information stored in black hole radiation and ultimately reveals it is vital to our perception of reality, thus intertwining our destinies.
Using famous and historical women, Myra Fiori's ironic work examines the relationship between women and jewelry through photographic compositions made of the jewelry they wear in the images. Or Kim de Molenaer and his collaboration with the Dora Stratou dance theatre.
All the artists' work explores formal semantics. Logical aspects of meanings, senses, references, implications, and logical forms, are explored as vectors of mystification and sublimation, confirming the belief that a word, a gesture, an act do not make sense if not applied.
Palermo is a crossroads of three continents in the heart of the Mediterranean and the home of Breaking Myth curator, Dr. Lo Sicco, who chose the occasion of Manifesta 12 to produce the exhibition in addition to a series of cultural and educational opportunities for art students of the region, as well as the general public.
The week following the opening of the exhibition, a series of lectures, seminars, workshops, performances, and concerts will be held at Palazzo Riso in Palermo, by SCAD Professors and Alumni. Tickets available on Eventbrite.
The opening for press and friends will be at Palazzo Riso on June 15.. Public opening will be at Palazzo d'Aumale on June 16 where Artists will interact with the visitors, explaining their work and answering questions, followed by a concert of classical and contemporary music in collaboration with the Students Orchestra of the Conservatorio di Musica di Palermo.
Participating Artists: Atlanta/US based artists: Ying Chen, Travis Dodd, Myra Fiori, Zoltan Gerliczki, Michael James O'Brien, V. Elizabeth Turk, Bjorn Veno. European based artists: Tim van den Oudenhoven (Germany), Kim de Molenaer (Belgium), David Boyd-Carrigan (England), William Ruller (France), James Morris (England), Hadeff (Brazil), Piero Gemelli (Italy), and Giovanni Gastel (Italy) and Paul Bevan (UK).
For more information and high resolution photos contact:
Greece Needs Love, Inc. Phone: +1 404 834 6337 - Attention: Dr Luca Lo Sicco info(at)greeceneedslove(dot)com
http://www.greeceneedslove.com
About Greeceneedslove
Greece Needs Love is a non-profit organization born in London in 2013 and since January 2016 based in Atlanta, Georgia (USA). GNL is pro the reunification of the Parthenon Marbles and our mission is to help artists, artisans and researchers from Greece or with Greece as the main subject of their postgraduate education. We support the production of contemporary Greek Art while preserving the Greek Art History as common roots to the world.
Generosity towards Greece is our first duty!
Our Values:
As Pericles claimed in a famous speech we believe in the nobility of spirit. We make friendships not by receiving kindness from others but by conferring it on others. Helping others makes us a more trustworthy friend, because we then act so as not to lose the good will that our help created. We do kindness to others, we believe in the spirit of liberality, which motivates us.
We believe that Art education helps and gives a better future to children; gives them the ability to resolve problems, overcome obstacles, and helps them to understand and communicate with the world.
SOCIAL:
HASHTAG: #GREECENEEDSLOVE #BREAKINGMYTH
INSTAGRAM: @GREECENEEDSLOVE
FACEBOOK: GREECE NEEDS LOVE
TWITTER: @GREECENEEDSLOVE