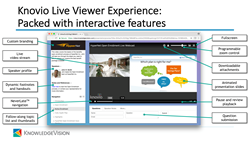 We set out to rethink every aspect of multimedia livecasting
NEW YORK (PRWEB) May 07, 2018
KnowledgeVision Systems, a leader in smart media and online presentation technology, has added powerful new multimedia livecasting features to its Knovio smart video platform. Knovio Live debuts this week at the Streaming Media East in New York City, and is available for purchase and deployment today.
Knovio brings more than a dozen new and innovative features to multimedia livecasting and live online presentations at scale, as it supports new video standards delivering a rich new experience to viewers on any desktop or mobile web browser. Yet Knovio hides that power within a very simple presentation control panel that makes live programs quick and easy to set up and run.
Heading the list of breakthrough features is Knovio's patent-pending NeverLate™ navigation, that offers webcast latecomers the choice to join the webcast in progress, to watch from the beginning, or to navigate to specific material they might have missed, while all multimedia elements stay in perfect synchronization.
"We set out to rethink every aspect of multimedia livecasting," said KnowledgeVision CEO Michael Kolowich. "The result is a platform that makes a synchronized video-and-slides experience remarkably easy to launch, manage, and archive for on-demand viewing."
Watch the Knovio Live video (1:21) at http://www.knovio.com/live
Knovio Live users can choose to deliver their video over either of the two most robust and reliable global video delivery infrastructures in the world, Brightcove Live and Amazon Web Services MediaLive. Synchronization of slides, images, footnotes, navigation, and other interactive elements is accomplished within a special version of the Knovio web interface, which is used by more than 300,000 registered users to create and manage on-demand video content.
"The combination of Knovio's enterprise-grade synchronization with the proven scalability of Brightcove and Amazon's AWS means Knovio Live can deliver high-quality live experiences to tens of thousands of simultaneous viewers," said Kolowich. "That makes it perfect for such applicataions as global company meetings, online news conferences and product launches, conference and event keynotes, quarterly or annual investor communications, and live sales training."
Here are some of the features that collectively make Knovio Live unique:
-- Synchronized multimedia viewer experience regardless of bandwidth or network latency.
-- Universal compatibility with desktop, laptop, and mobile browsers, with no additional software or plug-ins.
-- Instant replay, pause-and-review (preserving synchronization)
-- NeverLate(™) navigation: Late arrivals can join in progress or watch from the start
-- Follow-along topic list and topic navigation
-- Full support of PowerPoint animated slides
-- Just-in-time and hot-swapped slides, to accommodate late changes
-- Programmable (and user-controllable) real-time slide and video zoom
-- Dynamic footnotes, calls to action, and downloadable handouts
-- Instant availability of on-demand archived version (at same link)
-- Easy setup means you're ready to go in less than five minutes.
-- Integration with Knovio Showcases
-- Integrated registration, guestbook, guest lists to manage access
-- Deep viewer-level analytics
Knovio Live is available as a separate add-on option for Knovio Corporate Edition account holders, and is included in Knovio Enterprise Edition contracts. It is also available as a per-event managed service offering, for those who prefer assistance in webcasting single events.
Visit http://www.knovio.com/live for more information and to request a demo.
About KnowledgeVision
KnowledgeVision is the leader in smart media creation and hosting technology. Its Knovio online video platform is used by more than 300,000 people worldwide in more than 2,000 companies and campuses to create, host, share, organize, collaborate around, and measure online media and presentation content.
Founded in 2010 by a team of online media pioneers led by ZDNet Founder Michael Kolowich, KnowledgeVision is backed by GrandBanks Capital, Rand Capital, and a group of individual investors who believe in the company's mission to bring smarter video content to every business, organization, and educational institution.