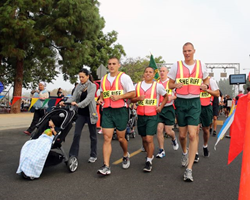 "Do what you can, with all you have, wherever you are"- Theodore Roosevelt
LA MIRADA, Calif. (PRWEB) May 08, 2018
Law enforcement unites in support of thousands Southern California Lupus Warriors at the 19th Annual Lupus Race for Life 5k Run/Walk, and Kids 1-mile Fun Run on Sunday, May 20, 2018 at La Mirada Regional Park.
Nineteen years ago, First Responders rose above and beyond the call of duty to create an event in support of those living with lupus and their families. They saw a need and stepped up to make a difference. All volunteer. Thousands and thousands of hours to help those living with lupus--an incurable disease that strikes women primarily between the ages of 15 and 44 years.  It is estimated to more than 1.5 million people have been diagnosed nationwide.
The 2018 race is dedicated in Loving Memory of Susy Betanzos, wife of a Long Beach Police Officer and mother of two amazing kids. She was courageous, never let lupus affect the way she and her family lived and selflessly gave to family, friends, fellow lupus warriors and her community. The Betanzos family has created a scholarship fund to continue Susy's legacy of giving. See Lupus International website for details of how you can apply.
This event has become a family favorite year after year. All participants will receive a t-shirt and giveaways. Attendees will be treated to a pancake breakfast and refreshments. Trophies will be awarded for 1st, 2nd, 3rd place overall finishers for the 5K run and the 1-mile kids run. Medals will be given to age division winners for the 5K run and all 1-mile registrants will receive participation medals.
Proceeds benefit Lupus International Foundation, a nonprofit organization serving lupus warriors and their loved ones since 1983. For more information or to register online, go to: http://www.lupusinternational.com