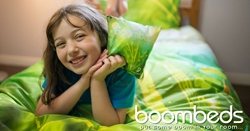 At boombeds, we want to inspire every kid to unlock their potential with a positive uplifting environment. Give your kids a healthy nights sleep so they wake up rested and let them dream!
VANCOUVER, B.C. (PRWEB) May 08, 2018
boombeds! for Kids are launching on Kickstarter on May 8th! boombeds are a stylish range of Fun & Imaginative premium quality bed cover designs for Kids!
We are parents who wanted the best bedding for our own kids but couldn't find it in stores. There were plenty of options for adults, but little quality choices for kids. We decided to use our backgrounds in industrial sewing and graphic design to make them ourselves… The philosophy was simple – to create the absolute best duvet covers for kids; with full color imaginative designs using our own unique, fun & lovable characters; made out of the best materials like Bamboo and 100% Cotton; and yet still being affordable. We focused on quality above all else, with each boombeds being Handmade by us right here in Canada.
We strongly believe good sleep is extremely important for healthy development and growth for kids... and with boombeds we do that with a touch of fun! Surrounding kids in bright, colorful and inspiring designs stimulates healthy growth and imagination. They dream better, and wake up more refreshed! Combine that with great quality premium materials that keep them comfortable, cool, and fresh, and boombeds gives kids both the best nights sleep and a bright start for both the day as well as life!
All boombeds characters and worlds are Designed by us in our studio, and we Craft each one by hand for Quality using the latest digital fabric printing technology on high quality 300 thread count rayon made from Bamboo. Any existing comforter or duvet can be used with boombeds covers, with the inside corner ties and zipper enclosure keeping the cover in place. Change your boombeds cover easily and quickly, making it easy to wash, or just change the mood of your room with another boombeds! These are the Best Duvet Covers for Kids!

The boom in boombeds represents imagination, and every bed design is full-color and bursting with fun and inspiration. Whether its dinosaurs, fairies, or space pirates, kids can envision themselves in countless amazing and original worlds.
They are an interchangeable bedding system which allows you to change your kid's covers and create new moods in a room instantly. Changing designs allows your kids to choose their favorite designs as an expression of themselves.
Made from premium Materials like Bamboo from Rayon, boombeds covers give your kids a comfortable, healthy sleep environment, keeping them warm in winter, and cool in summer. All boombeds are Handmade in our studio to ensure the quality!
Our cover designs are exciting, fresh and modern. They are also very affordable, and we are offering high quality products in a way that can fit into a busy family's budget.
Launching on Kickstarter, covers are available at a 20% discount for $79 USD (retail $99), as well as a special one off Kickstarter Edition bed cover design only available in Limited Quantities.
We are excited to be bringing boombeds to kids everywhere, and you can support the project on our Kickstarter page
See http://www.boombeds.com for more
boombeds Community: http://www.facebook.com/boombeds