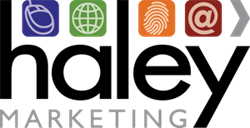 A great staffing website is designed from the ground up to drive response, and these new plugins make it easy for our clients to build much more robust websites.
WILLIAMSVILLE, NY (PRWEB) May 09, 2018
Haley Marketing, the largest website development, social and content marketing firm serving the temporary staffing and executive recruiting industries, is pleased to announce the rollout of a robust new suite of WordPress Plugins for staffing and recruiting websites.
WordPress Plugin Suite Features
Designed to optimize the performance of staffing websites, this collection of WordPress tools was custom-developed to give staffing and recruiting firms more ways to promote jobs, market talent and spur employers and job seekers to take action. New WordPress Plugins include:
Job Board Plugin: This tool works seamlessly with Haley Marketing's Job Board to display jobs and forms in any page or widget area of a client's site, making it more convenient for users to search and apply to jobs.
Talent Showcase Plugin: Designed to be used in conjunction with the Haley Marketing Talent Showcase, this plugin allows users to easily insert talent feeds into any page, sidebar or widget area. Advanced talent display options and list categories enable client to further refine the way talent profiles are displayed to users.
HaleyMail Plugin: Designed to help HaleyMail clients grow their permission-based, email marketing lists, this plugin makes it simple to insert single or multi-list newsletter opt-in forms in more areas of their website.
Blog Post CTA Manager: This tool drives blog readers to take action by allowing clients to easily add pre-built or custom graphical call-to-action areas at the bottom of blog posts.
CTA Fly-in Plugin: Featuring options to customize layout, content and visibility, the CTA Fly-in Plugin makes it easy to add eye-catching popups and fly-ins that grab site visitors' attention and ultimately drive conversions.
Testimonials and Case Studies Plugins: Both plugins make it simple to add, edit and categorize reputation-building testimonials and case studies.
Team Profiles Manager: This flexible plugin provides a variety of display options to customize how staffing and recruiting firms display team member profiles on their websites.
Many of these plugins feature advanced filtering and branding options, as well as convenient shortcode builders, making it easier for staffing firms to showcase jobs and talent, increase conversions, prove their value and build their brand.
Building Better Staffing Websites from the Ground Up
According to Haley Marketing CEO, David Searns, "A great staffing website is designed from the ground up to drive response, and these new plugins make it easy for our clients to build much more robust websites. The best part is that the plugins allow someone with no technical skills to easily add and update really sophisticated web features."
About Haley Marketing Group
Haley Marketing provides website development, email and content marketing, social media marketing and strategy consulting to the staffing industry. The company provides services to more than 1,300 staffing and recruiting firms throughout the world.
Haley Marketing's mission is to make great marketing more affordable, and the firm's clients range from solo recruiters to larger staffing and recruiting organizations with regional, national and international offices.
Haley Marketing's services include:
Website Design
Direct Mail Campaigns
Email and Content Marketing
Blog Writing and Social Media
Reputation Management
Corporate Identity & Creative
Marketing Strategy
Online Advertising
For more information, contact Haley Marketing at 1.888.696.2900.