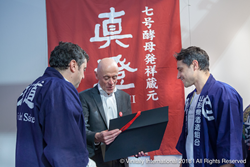 Being at Vinitaly 2018 is for sake both a very big challenge and a big opportunity!
(PRWEB) May 07, 2018
The first edition of 5StarSake held in Verona on April 13th, 2018, selected 18 finest sake brands, the best available in Italy. 5StarSake was held before Vinitaly as part of Vinitaly International's annual wine selection 5StarWines.
The last edition of 5StarWines included a special tasting section entitled "5StarSake" and dedicated to Japan's national drink, sake. On the last day of the wine tasting, three renowned sake experts blindly tasted and evaluated 32 different kinds of sake. Chairman of the jury was Marco Massarotto, founder and president of NPO La Via del Sake, and organiser of the Milano Sake Festival. Together with Massarotto, famous wine selector Dan Lerner and founder of Sake Company Lorenzo Ferraboschi were part of the judging panel. Tasted "by category", the drinks were evaluated on their visual and olfactory presentation, as well as on their taste and aroma.
Out of the 32 samples arrived in Verona for the selection, only 18 reached the minimum evaluation score that would grant them publication on the 5StarWines website:
Sake Name Producer
Hiyashibori Konishi
Kenzan Sogen
Hatsumago Densho Kimoto Honjozo Tohoku Meijo
Beppin Koikawa Shuzo
Dewanoyuki Kimoto Watarai Honten
Kiippon Tokubetsu Junmai Urakasumi
Kinran Kumejiro Kametaya
Tera Hayashi Honten
Takesuzume Otsuka Shuzo
Tokubetsu Junmai Nanbubijin
Yonetsuru Jinenryu Yonetsuru Shuzo
Aratama Kairyo Wada Shuzo
Shuho Alps Masamune Junmaidaiginjo Kametaya
Genshin Sogen
Horin Gekkeikan
Urakasumi Zen Urakasumi Jozomoto
Namazake Gekkeikan
Shuho Alps Masamune Junmaiginjo Kametaya
Moreover, these 18 selected sake received a special boost on all of the 5StarWines' communication channels. Among these 18 selected sake, 9 in particular reached a higher evaluation score and were assigned a "Special Mention":
Kenbishi's Kuromatsu;
Dewakazura's Dewa No Sato;
Konishi's Shirayuki Edo Genshu;
Tatenokawa's Kodakara Yuzu;
Masumi's Nanago;
Sogen's Sword of Samurai;
Taga's Tairo;
Kozaemon's Junmai Umeshu;
Asahishuzo's Dassai 23.
On the selection he chaired, Marco Massarotto comments: "I think this is a very important moment, Vinitaly is the home of wine in Italy and sake is a product that should stand side by side with wine on the shelves and on the cellars that sommeliers work with. Sake is a product with extraordinary properties and features in food matching, both with Italian and international cuisine, sometimes even more than with Japanese cuisine! Being at Vinitaly 2018 is for sake both a very big challenge and a big opportunity, I want to thank Vinitaly International for this amazing possibility. With 5StarSake we are educating Italy, while also helping the craft, the industry, and the artisans in Japan that need to commercialise their product in order to survive the challenges of the global market." On the increasing commercialisation of sake in Italy, Dan Lerner observes: "Sake consumption in Italy is growing pretty fast, so much that even some Italian restaurants are offering it on their drink menus! I feel like the 5StarSake event is only the beginning: right now sake is present at Vinitaly only through this selection and some stalls in the international pavilion, but who knows, in a couple of years there could be an entire pavilion dedicated to the Japanese rice wine!"
An event unique in its kind, 5StarSake promoted a special drink that it is still little known in Italy and will help both Italian consumers and Japanese producers. It will inform Italian consumers about the best sake brands available in their country, while also introducing the Japanese producers to a market that is increasingly interested in their products.
About
The grand Vinitaly 2019 will be held from April 7th to the 10th. Every year, Vinitaly counts more than 4,000 exhibitors on a 100,000+ square meter area and 130,000 visitors from over 140 different countries with more than 30,000 top international buyers. The premier event to Vinitaly, OperaWine (https://www.vinitalyinternational.com/?page_id=646) "Finest Italian Wines: 100 Great Producers," which will be held on the 6th of April, one day prior to Vinitaly will unite international wine professionals in the heart of Verona, offering them the unique opportunity to discover and taste the wines of the 100 Best Italian Producers, as selected by Wine Spectator. Since 1998 Vinitaly International travels to several countries such as Russia, China, USA and Hong Kong thanks to its strategic arm abroad, Vinitaly International. In February 2014 Vinitaly International launched an educational project, the Vinitaly International Academy (VIA) with the aim of divulging and broadcasting the excellence and diversity of Italian wine around the globe. VIA this year launched the seventh edition of its Certification Course and today counts 151 Italian Wine Ambassadors and 11 Italian Wine Experts.