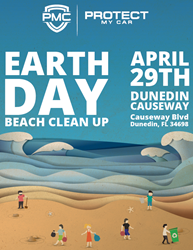 "When the opportunity arose to get together volunteers for an Earth Day event, I jumped on the idea of keeping our waters clean." - Noel Aponte, Protect My Car's VP of Operations
(PRWEB) May 09, 2018
Protect My Car, one of the nation's leading providers of extended vehicle service contracts and maintenance plans, marked Earth Day on April 29, 2018 by hosting a clean-up event at a local beach in Dunedin, Florida.
The event was coordinated in partnership with the Dunedin Parks and Recreation Center, which donated trash bags and provided dumpsters. Dozens of volunteers, comprised of Protect My Car staff and their family members, gathered to remove plastic bags, fishing lines, empty bait containers and bottles that littered a span of the Dunedin Causeway. The group also disposed of numerous palm fronds dumped by well-meaning, but misinformed, people who failed to realize that the fibrous nature of their leaves dramatically slows down the biodegrading process, with some leaves taking up to 50 years to fully decompose.
The Earth Day clean-up event also received some welcome support from law enforcement officers patrolling the area, who paused their regular patrol route to hand out stickers and whistles to children. Many local residents also expressed their appreciation for the effort to keep the popular community hotspot free of debris that not only damages the ecological balance and diminishes enjoyment and esthetics, but also harms a diverse range of wildlife that call the area home.
"Living on a peninsula, you can't ignore the fact that we are surrounded by beautiful beaches," stated Jordyn Coppola, Protect My Car's Marketing Specialist and organizer of the clean-up event. "When the opportunity arose to get together volunteers for an Earth Day event, I jumped on the idea of keeping our waters clean. In total, we collected about 10 very big bags of trash, and we all had a great time! It was a very successful event, and I'm very proud of the work put in by our volunteers and their families!"
Added Noel Aponte, Protect My Car's VP of Operations: "We've always been a community-focused company, and we take pride in demonstrating social leadership and responsibility. Jordyn and her fellow volunteers did an incredible job, and we look forward to marking Earth Day 2019 with an even bigger event!"
More information on Protect My Car is available at https://protectmycar.com.
About Protect My Car
Protect My Car is one of the nation's leading providers of extended vehicle service contracts. The company's extended coverage plans are ideal for consumers with cars less than 10 years old and with fewer than 150,000 miles, and whose manufacturer's warranty has expired or will soon expire. Consumers with vehicles older than 10 years, or with more than 150,000 miles, can take advantage of Protect My Car's "Ambassador" line of policies, which include 24/7 roadside assistance, rental car reimbursement and repair bill savings of at least 50 percent. All of Protect My Car's policies are offered with a "Free Look" trial period. If a new customer is not completely satisfied, they can contact Protect My Car's Customer Service Department within 30 days and receive a full refund of their down payment.