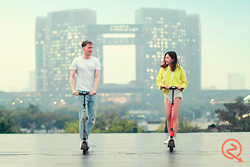 (PRWEB) May 10, 2018
Zoom Scooters announced today their plan to unveil the new EX edition of their flagship electric scooter, the Zoom Stryder, which will offer a greater range per charge as well as greater torque. This announcement, following careful consideration of customer feedback, has been met with much excitement among electric scooter enthusiasts.
Marcus Riddlestone, an escooter enthusiast, had this to say in anticipation of the upcoming release:
"I've been looking to buy an electric scooter for some time now and, after reviewing many models, have settled on the Zoom Stryder. To the best I can tell, this is one of the fastest electric scooters on the market, and I was excited to hear that the Stryder EX is going to have an even farther range!"
Marcus is among many consumers that have found the Zoom Stryder to offer an attractive range of options for electric scooter buyers. This escooter boasts a top speed of nearly 19mph (30km/h), can climb grades as steep as 25%, can support a 240-pound load (110kg), and folds down to provide an easily-transported shape.
Ella Chong, a spokesman for Zoom Electric Scooters, had this to say about the upcoming release of the EX model:
"We've worked very hard to design the Stryder in such a way that provides a powerful set of features and options. One of the driving factors in the electric scooter market is battery technology and, after a lot of hard work from our very talented design team, we decided that upgrading the battery to a newer model would be able to provide even greater features to our customers."
The Zoom Stryder boasts an incredible number of positive reviews from customers singing the praises of this design. The electric scooter market has been growing significantly in recent years, and expert projections describe a bright future for the eco-friendly technology. In the United States, this is reflected by a slew of West-Coast startups offering electric scooter rental services. These startups have raised hundreds of millions in seed money from venture capitalists and have leveraged smartphone technology to provide metropolitan areas with easy access to affordable scooter rentals.
Chong also commented on this aspect of the emerging West Coast market:
"We're keeping a close eye on the United States electric scooter market as it continues to develop. One of the big differences there is the need for greater distances. Even in metropolitan areas, United States buyers tend to have greater distances to travel in their daily commutes. Many of our US-based customers have expressed that, if given the option to change anything with the Zoom Stryder's design, they'd elect for a battery with more range. This isn't something that gets brought up as often in other markets, but we still felt it too important to ignore. The Zoom Stryder EX is our way of providing customers looking for the longest range electric scooter possible with a better option."
About the Zoom Stryder EX
The Zoom Stryder EX is planned to launch mid-May 2018 and will offer escooter buyers a longer-range battery option to help accommodate the needs of those with longer daily commutes. This product will offer the same acclaimed features of the Zoom Stryder but will offer an LG battery upgrade capable of nearly 30% greater travel distance per charge. The Zoom Stryder Electric Scooter is available for purchase from the Zoom website at the following addresss, as will be the Zoom Stryder EX in May:
https://www.ridezoom.co/shop/zoom-stryder/
About Zoom Electric Scooters
Zoom is a Singapore based electric scooter manufacturer and retailer and is the maker of the popular Zoom Stryder. They offer retail sales to local Singapore electric scooter buyers through their brick and mortar location in Bedok Reservoir area as well as easy buying options to international customers around the world. They offer free shipping on orders to the United States and are actively expanding their authorized dealer locations abroad to help accommodate a growing demand for their products.
Zoom
742 Bedok Reservoir Rd #01-3119
Singapore, 470742
+65 9807 7196
https://www.ridezoom.co/