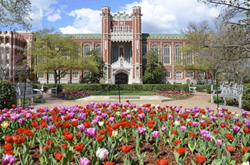 "Moving to an online bookstore is the next step in ensuring students and faculty have the best experience and prices possible." - University of Oklahoma Provost Kyle Harper
NORWALK, Conn. (PRWEB) May 09, 2018
The University of Oklahoma (OU) has selected Akademos as its online bookstore provider to help students obtain significant savings on course materials, offer advanced adoption tools for its faculty, and provide actionable data and analytical resources that connect learning material selections to academic outcomes. The University will maintain an on-campus "Fan Shop" to support the sale of school spirit and general merchandise items. All course materials will be available via the Akademos online bookstore platform in support of Spring Term 2019 classes.
"We congratulate the University of Oklahoma in taking this innovative step to help lower education costs for OU students. The University of Oklahoma joins a growing number of universities who recognize that they must modernize their course material platforms and seek distribution partners that better serve the needs of their students and faculty," said John Squires, CEO, Akademos. "We're delighted that after a thorough and competitive process, OU has selected Akademos to support their mission and provide a course materials platform that will foster the success of both students and faculty."
The Akademos platform will offer seamless integration between the University's Banner Student Information System (SIS) and Canvas Learning Management System, (LMS), making the online bookstore an elegant extension of the University experience. The integration will allow students to view a personalized listing of all of their registered courses and their corresponding materials (required and optional) and to order materials for an entire term in 5-minutes or less.
A wide selection across new, used, rental and eBook formats will be offered and, when using Akademos' proprietary peer-to-peer Marketplace of over 100 million new and used textbooks, students will save an average of 60% off publisher list prices. OU students will also be able to take advantage of free economy shipping on all retail orders, regardless of location.
The online bookstore will also support the college's faculty and administrators, who will benefit from an easy-to-use and powerful Adoption & Analytics Portal. This platform offers a step-by-step guide for course material adoptions, recommendations and adoption history, and the ability to compare real-time prices for course materials.
"Faculty and staff across the university have made great strides to decrease the cost of textbooks to students, but we have to fight the climbing costs of textbooks on all fronts," said University of Oklahoma Provost Kyle Harper. "Moving to an online bookstore is the next step in ensuring students and faculty have the best experience and prices possible."
"Data on how students are engaging with course materials is a key benefit for institutions that utilize our course materials platform," said Jonathan Shar, Chief Marketing Officer, Akademos. "Because faculty and campus leadership are fully informed on student preparedness and progress, they are able to leverage that data to make better decisions on future adoptions and deliver a best-in-class experience to their students."
###
___________________________________________________________________________
About Akademos
Akademos offers customized, online bookstore services and solutions that support what's most important to institutions - from full-service virtual bookstores to unique partnerships and products supporting on-campus shops. Akademos delivers cost savings on course materials for students while providing administrators and faculty with critical control over the textbook delivery process.
Akademos offers an innovative textbook marketplace, best-in-class eCommerce platform, eLearning solutions, and a unique adoption and analytics portal. The company's comprehensive supply-chain solution and commitment to responsive personal service makes it the choice of leading institutions throughout the country.
Akademos helps institutions deliver the right course materials, at affordable prices, on time. Learn more at akademos.com.