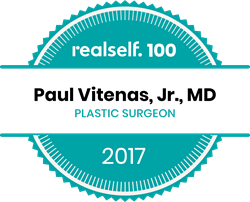 HOUSTON (PRWEB) May 08, 2018
Paul Vitenas, M.D., F.A.C.S. was recently named as part of the 2018 RealSelf 100. For the sixth time, Vitenas Cosmetic Surgery has ranked in the top 1% of all participating providers on the social media site. The annual list of RealSelf 100 nominees are released each spring, honoring their most influential and active physicians.
RealSelf started in 2006, as a repository for plastic and cosmetic surgery information and reviews. Over the last 12 years, the site has become the number one online source for aesthetic information, testimonials, and practice information. Including a variety of before/after photographs, patient reviews, and doctor Q&As, the site helps both existing and potential patients find the information they need to ensure safe and satisfying aesthetic results.
A wide range of physicians work tirelessly on the RealSelf forums, answering patient questions and responding to consumer comments. These include board-certified specialists in plastic and cosmetic surgery, dermatology, otolaryngology, and cosmetic dentistry. Last year, the 20,000 participating doctors answered more than 100,000 patient questions. Being a physician in the elite, RealSelf 100, tells consumers that doctor is deeply committed to patient education, devoting their time to improving aesthetic outcomes.
The 2018 RealSelf 100 marks the 8th year of the award. RealSelf CEO, Tom Seery, is thrilled to announce this year's honorees and applaud the physicians for their efforts. He explains, "The RealSelf 100 recognizes committed medical professionals who are leading the way to help educate and empower consumers to make smarter decisions about aesthetic treatments,". He then continues, "RealSelf 100 honorees are among the most engaged doctors on RealSelf,".
Named as part of the RealSelf 100 six times, in 2012, 2013, 2015, 2017, and in 2018, Dr. Vitenas is considered an expert contributor on the website. Currently, Dr. Vitenas has posted over 2,000 answers to patient questions and maintains an exemplary rating, with more than 130 patient reviews. To find out more about Dr. Vitenas and the latest RealSelf 100 Award winners, go to https://www.realself.com/RS100.
ABOUT VITENAS COSMETIC SURGERY
Dr. Paul Vitenas is a board-certified plastic surgeon, with more than 30 years of aesthetic experience. A graduate of Tulane University Medical School in New Orleans, Dr. Vitenas completed a competitive Orthognatic Surgery Fellowship at the Louisiana State Medical Center. He also completed highly selective Fellowships in Craniofacial and Cosmetic Surgery at Hospital Necker and Clinic Belvedere in Paris, Miami Children's and Victoria Hospital at the University of Miami. Specializing in body contouring procedures such as breast augmentation, the Mommy Makeover, and the Brazilian Butt Lift, Dr. Vitenas is also known for bringing his patients an innovative range of noninvasive techniques.
Vitenas Cosmetic Surgery is located on the corner of Richmond Avenue and Drexel Street, in the heart of Houston's Highland Village and River Oaks Shopping District. The office is easy to reach from any side of town, as well as either of the city's two, international airports. To schedule a complimentary consultation with Dr. Vitenas, call Vitenas Cosmetic Surgery at 281.484.0088 or fill out the online Contact Us form.