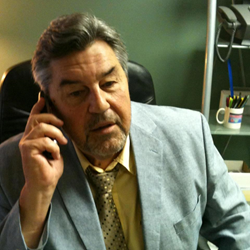 Sonny "Hollywood" Chase and his cohorts deliver great entertainment, as well as the best of the 70's, all in a convenient two-hour program, Kevin Keith of WCSN Sunny 105.7FM, Gulf Shores, Alabama
CHARLOTTE, N.C. (PRWEB) May 08, 2018
Just when many thought it impossible for Ed Galloway to raise the bar in audio artistry and comic creativity, he has done it again. Known for decades as the Man with a Thousand Voices, long-time Charlotte resident Ed Galloway is an award-winning impersonator, voice actor and creative writer. Now with a creative team of his own, complimented by a striking and inventive website, Ed Galloway Productions (EGP) is blazing new trails in audio entertainment.
This time, Galloway, who has entertained audiences as a morning radio show host across the US, including the Charlotte area, has released the latest in his long list of formidable achievements—a two-hour long syndicated radio program with a '70s vibe. The show features the greatest music from that era, together with humor and satire based on real-life events, movies and the "fab" 70's lifestyle. Also back is Galloway's memorable cast of self-created, self-voiced characters.
Cleverly titled, "And Then There Was That," the new show made its debut earlier this year, delivering belly laughs to stations across the US, eight of which are scattered throughout the Carolinas. Hosting the show is Galloway's alter ego, the irresistible Sonny "Hollywood" Chase, spinning music classics listeners are delighted to hear again, while serving up humor and banter with a hilarious cast of characters. The fast-growing number of listeners are calling the resulting product "refreshing."
"Sonny "Hollywood" Chase and his cohorts deliver great entertainment, as well as the best of the '70s, all in a convenient two-hour program," comments Kevin Keith of WCSN Sunny 105.7FM, a Gulf Shores, Alabama station.
Boasting over 30 years of success in the radio and audio industry, Ed Galloway has earned his place among the nation's best-known and most loved voice artists. Professionals and listeners agree Galloway has earned his reputation as the gold standard in celebrity impersonations and beloved (and fictitious) on-air characters, as well as a top ranked writer and voice talent for the automotive industry, coast to coast. Galloway worked at Southland Studios in Charlotte, where he rose to become one of the most sought after creator and voice talent for the lucrative automobile industry.
During his radio years, Galloway perfected his virtually unlimited array of recognizable voices—from Andy Griffith to Bill Clinton. The artist won the title of Best Voice Impersonator in both the Atlanta and Charlotte markets. In addition, Galloway recently wrote and produced an audio book, "Incident in Mint Hill," now available at Amazon.com.
"And Then There Was That" is classic syndicated show, distinguished by its high quality production. The show is delivered free weekly for radio broadcast. The show is spot inclusive, with time available each hour for local commercial insertion. EGP is now seeking new radio markets and advertisers for this program. Learn more at https://thevoiceontheradio.com. Or contact Chuck Robbins.