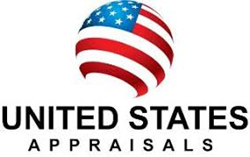 This proactive approach has resulted in a 49% increase in orders scheduled within 24 hours year to date. - Aaron Fowler, CEO
OVERLAND PARK, Kan. (PRWEB) May 08, 2018
United States Appraisals has announced the launch of Valuation Express, a new platform that "fast-tracks" the appraisal process by incorporating real-time scheduling and artificial intelligence (AI), while also analyzing over 2,000 specific data points such as geographic and real estate data, as well as appraiser trends and other critical data.
"Valuation Express is a revolutionary product in the mortgage industry," said James Webster, Chief Technology Officer. "We are analyzing trends with Artificial Intelligence and Machine Learning to eliminate inefficiencies and reduce turnaround times." The platform helps to solve decades-long problems with lagging responsiveness and poor visibility into the appraisal process by key stakeholders. The historical model for lenders has been to "order and wait," whereby now we offer the dynamic "order and watch" solution.
One of the most powerful features of Valuation Express is the scheduling feature, which utilizes Uber-like mobile technology to deliver real-time order requests directly to nearby appraisers already in specified target areas. As a result, requested appointments can be confirmed almost immediately in many cases, while still maintaining all of the requisite appraiser order assignment criteria that has helped United States Appraisals emerge as a market leader.
"Late appraisals and poor communication cause considerable frustration for lenders," said Aaron Fowler, CEO. "Valuation Express solves these issues by re-engineering the scheduling process and providing real-time updates for all stakeholders within the appraisal transaction. This proactive approach has resulted in a 49% increase in orders scheduled within 24 hours year to date."
Valuation Express was announced at last month's MBA Technology Solutions Conference in Detroit, MI, and is now rolling out nationwide.
About United States Appraisals
Centrally headquartered in the Kansas City area, United States Appraisals provides professional appraisal management services in all 50 states. Our management team has over 120 years of combined mortgage and residential real estate experience, ensuring each appraisal is completed with the highest level of quality. With intense focus on customized personal service, our cutting-edge online tracking system manages every appraisal order from start to finish. United States Appraisals delivers much-needed confidence to the valuation process. For more information, visit http://www.unitedstatesappraisals.com.