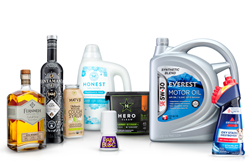 CHICAGO (PRWEB) May 08, 2018
Berlin Packaging, the leading full-service supplier of plastic, glass, and metal containers and closures, announced today another successful year at the National Association of Container Distributor (NACD) packaging awards competition.
The 2018 ceremony, which recognizes the most innovative and compelling packages released during the previous year, garnered Berlin Packaging 11 medals. These add to the company's 39 NACD awards earned in the prior five years.
The company, a global packaging juggernaut valued at $2.6 billion, has also been recognized recently in other packaging competitions, including the American Packaging Design Awards, WorldStar Packaging Awards, and PAC Global Leadership Awards.
The awards earned this year represent the most ever received by the company at the NACD competition. Berlin's winning entries included:
Everest Motor Oil (Gold, Household, Chemical & Automotive; Bronze, Best Use of Custom Packaging) needed to solve a top-load distribution issue and wanted packaging differentiation in the staid motor oil segment. The new bottle delivers on both fronts with attractive geometry meeting strong utility.
Hero Clean (Silver, Household, Chemical & Automotive; Silver, Best Use of Stock Components) eschewed fancy design or obscure shapes for a laundry detergent package that appeals to men. The charcoal gray color and the packaging graphics on the 64oz polypropylene square container exude a masculine vibe referencing the military, which is essential to the brand's story.
Honest Company Baby Fabric Care Line (Bronze, Household, Chemical & Automotive) speaks directly to the desires of millennial consumers, specifically moms, that their products must be premium, eco-conscious, and user-friendly. The custom bottle and closure designed by Studio One Eleven®, the design division of Berlin Packaging, also sets a new standard of e-commerce functionality.
Bissell Pro Oxy Stain Destroyer Pet with Brush Head Cleaner (Silver, Pet & Vet; Silver, Best Use of Custom Packaging) not only tackles the toughest stains but also dramatically reduces the hassle involved in cleaning up pet mess. With a form-meets-function approach, the HDPE angled neck blotter-bottle streamlines the process with an attached scrubbing tool and dispensing closure.
Fernweh Distilling Company – Limited Edition Rye Whiskey (Silver, Beverage) successfully entered the crowded premium spirits category with a bottle that fulfills the brand's promise to convey "the finer thing in life." The matte walnut bartop closure and paper label with foil stamping provide the premium elements needed for the highest-quality whiskeys.
SANTAMANÍA Urban Legend Gin (Bronze, Beverage) presents a bottle that is both whimsical and intricate. Wrapped in a jet-colored veil, the graphic presentations evoke at once an elegant bull fighting costume and an ironic Rosetta Stone. The embossments, with the distillery name and logo at the top and bottom of the bottle, and the hand signing by the distiller on the white seal with gold leaf accents elevates the presentation.
Maty's Organic Cough Syrup and All Natural Cough Syrup (Silver, Drug & Pharmaceutical) packaging is distinctly food, not pharmaceutical, first. The recipes for Maty's are an evolution of recipes that our great grandmothers might have made from scratch. The all-natural and folk-like aesthetic really pops next to the reds, blues and oranges seen on the traditional medicine-aisle shelves.
PainBloc24 (Silver, Drug & Pharmaceutical) has a rollerball package that provides effortless application of this OTC pain reliever for 24-hour arthritis relief. The rollerball glides on for topical relief and, with a simple stock closure, PainBloc24 not only functions for the desired purpose but delivers in a visually pleasing package that stands out.
"We're thrilled with the continued recognition from the NACD, especially as it successfully highlights our dedication and willingness to provide our customers with the right solutions to address their packaging needs and improve their bottom lines," said Andrew Berlin, Chairman and CEO of Berlin Packaging. "Whether it's the world class capabilities of our Studio One Eleven design division to create innovative packaging solutions or the proactive advocacy from our Quality team or our capital lending, we offer these and many other income-boosting services at no-charge in exchange for packaging business."
"Great design makes business sense," said Scott Jost, Vice President of Innovation & Design at Berlin Packaging and leader of Studio One Eleven. "Our team of designers, engineers, market researchers, and tooling experts works hand-in-hand with the rest of Berlin to deliver compelling innovations that work with consumers and our customers' supply chains."
About Berlin Packaging
Berlin Packaging is the only Hybrid Packaging Supplier® of plastic, glass, and metal containers and closures. See HybridPackagingSupplier.com and GreaterFaster.com for more on how the company exists to help people and companies excel. With 40,000+ available SKUs, 200+ packaging consultants, and 100+ sales and warehouse locations across North America and Europe, the company has the right products, expertise, and geographic proximity to help customers increase their net income through packaging products and services. Berlin Packaging supplies billions of containers and closures annually as well as warehousing and logistics services for customers of all sizes in all industries. It is the only company in its sector to be ISO 9001 certified, to have Customs-Trade Partnership Against Terrorism (C-TPAT) certification, and to achieve 99% on-time delivery of its shipments every month for more than 13 years. Related services and specialty product divisions include Studio One Eleven custom packaging and graphic design, Berlin Global sourcing solutions, E3 profit-oriented consulting, Berlin Financial financing for equipment and capital improvements, Berlin Quality advocacy, Dangerous Goods transport, Freund Container & Supply convenience, and Qorpak laboratory supplies.