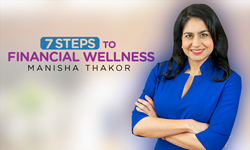 Grokker's well-being programs have long excelled at attracting beginners with bite-sized, mobile-friendly video content.
SAN JOSE, Calif. (PRWEB) May 08, 2018
Grokker is expanding its employee well-being and engagement platform to include financial wellness with its new "7 Steps to Financial Wellness" program. Designed by renowned financial analyst, planner and author, Manisha Thakor, the program empowers employees to better manage their money and reduce their financial stress via a series of informative, fun, easy-to-follow videos.
Financial stress is a major concern for today's employees. According to a 2017 PWC Employee Financial Wellness Survey, 53 percent of workers reported being stressed about their finances; 65 percent of millennials reported the same. Additionally, approximately one-third of employees report being distracted by personal financial issues while at work, with almost half of them spending three hours or more each week handling these matters during the work day.
"At Grokker, we take a holistic approach to employee health and meet employees wherever they are in their wellness journey. Financial wellness is a critical stressor for many employees, especially millennials who are facing unprecedented financial challenges today," explained Lorna Borenstein, founder and CEO of Grokker. "Grokker's well-being programs have long excelled at attracting beginners with bite-sized, mobile-friendly video content. We've used our patented video process and personalization to bring the same un-intimidating, yet expert, approach to financial wellness."
Manisha Thakor, who earned her MBA from Harvard Business School, is a regular contributor to CNN, CNBC, NPR and The Wall Street Journal. Manisha partnered with Grokker to craft its new financial wellness program that includes step-by-step advice on how to:
1. Live within your means
2. Budget with the "50/30/20" rule
3. Practice joy-based spending
4. Deal with your debt
5. Build an emergency cash fund
6. Save for the future
7. Talk money with your honey
"Employees are sometimes fearful to tackle their finances, yet they are a significant point of stress that needs to be addressed," stated Manisha Thakor, founder and CEO of MoneyZen Wealth Management. "What they don't realize is that there are simple, joyful methods that they can easily implement to help them feel calmer and more balanced in their relationship to money. Our new program empowers employees to take that first step towards financial wellness."
Grokker offers compelling wellness content focusing on exercise, mindfulness, nutrition, sleep and now, financial wellness. To learn more about Grokker and its new financial wellness program, visit http://www.grokker.com.
ABOUT GROKKER
Grokker takes the work out of workplace wellness with an easy-to-implement, holistic, and content-first employee engagement platform. With nearly 3,700 exercise, mindfulness, nutrition, financial well-being and sleep programs, more than 130 master experts, interactive challenges with cutting edge gamification and integrated incentives, and a supportive community to connect employees across locations, Grokker's patented program delivers cost-effective results. Loved by users in 172 countries, Grokker was named to CNBC's 2017 Upstart 25 list for successful startups. Grokker is available on your PC, mobile device, Apple Watch, and TV through Comcast, Amazon Prime, Amazon FireTV, Apple TV, Roku, Chromecast, and SKY. Learn more at http://www.grokker.com.