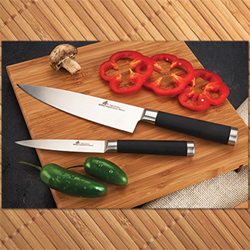 I absolutely love both of these knives, because they are sharpened perfectly so they glide through either meat or vegetables with ease.
PARKERSBURG, W. VA. (PRWEB) May 08, 2018
What's in store for the Mothers in your life this year? Flowers? Candy? Jewelry? If your search for the perfect gift is a bit sidetracked, we at Japan Woodworker have a few ideas that may be perfect for you or lead you to something else that works.
We've selected products in three categories – Kitchen, Garden and Other Neat Stuff –and featured photos and details in a blog that you may view by clicking here.
KITCHEN. High quality sharp knives will be Mother's go-to tools for a host of cutting tasks – slicing, peeling, chopping, mincing, dicing, grating, removing skin and bones, filleting and dressing – as she prepares, cooks and serves vegetables, fruits and meats, fish and poultry.
The ZHEN Knife Set pictured here is a favorite of September Fleming, director of digital marketing for Woodcraft. The 8" Chef's Knife and a 4-3/4" utility knife are made of top grade 440C Japanese high carbon stainless steel and feature antislip handles.
"I absolutely love both of these knives, because they are sharpened perfectly so they glide through either meat or vegetables with ease," Fleming said. "I tend to use the chef's knife for slicing poultry, fish and meat and the utility knife for all vegetables except tomatoes. I hand wash and immediately dry these knives and store them in the storage box that comes with the set."
Japan Woodworker carries an extensive selection of ZHEN kitchen knives, along with other top quality brands, including SHUN, Fujitora, Spyderco, Ikeuti and Tosagata. Shears, Scissors, Cutting Boards, Knife Holders, Bamboo Bowls, Chopsticks, specialty tools like a Fish Scaler and a Garlic Press, and nearly a dozen Microplane food prep tools are also available at Japan Woodworker.
GARDEN. If the Mothers on your list are gardening enthusiasts or just plant a few flowers each spring, they will welcome the gift of a good gardening tool from Japan Woodworker. We offer tools for prepping soil, digging, planting, weeding, irrigating, pruning, cutting, and harvesting.
The Gardener's Little Friend or Hori-Hori is one of the garden tool gift ideas. It is designed for digging deep rooted weeds, planting bulbs and bedding plants. The 6-1/2"-long blade's saw teeth will cut through tough roots and branches. The front of the tool is shovel shaped for digging efficiency, while the back is beveled for easy sharpening.
BOOKS. Books related to kitchen and garden topics are featured in those specific categories. "Dutch Oven and Cast Iron Cooking" covers how to use the Dutch Oven in the kitchen or outdoors, plus valuable tips for seasoning, cleaning, drying and storing cast-iron cookware. One hundred recipes for breakfast, breads, main dishes, side dishes, and desserts are included.
OTHER NEAT STUFF. Some of the JWW gift ideas did not fall into either the Kitchen and Garden categories, so they are included in the Other Neat Stuff category.
Ukuleles have become increasingly popular in recent years, so Japan Woodworker recently added three StewMac Ukulele Kits to its product line. A kit has twofold potential as a gift idea – you can make a ukulele relatively easily or you can give Mother a kit so she can make her own instrument.
A novel letter opener, a mini trail saw for outdoor trips and sewing scissors are other neat gift ideas featured in this category.
Discover lots more potential gift ideas by visiting http://www.japanwoodworker.com, where you can search for gift ideas and view the current catalog. You can also follow Japan Woodworker on Facebook, Twitter, YouTube, Pinterest and Instagram. For more information about Japan Woodworker, call (800) 537-7820.