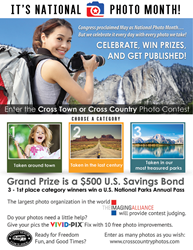 CINCINNATI (PRWEB) May 08, 2018
Family Motor Coach Association, an international association for RV owners, is celebrating May as National Photo Month by sponsoring the "Cross Town or Cross Country Photo Contest."
FMCA, in partnership with Vivid-Pix and the Imaging Alliance, recognizes that memories and photos are created on RV trips.
The "Cross Town or Cross Country Photo Contest" has several categories. Contestants can enter photos from everyday life, such as snapshots from their local community or historical photos of their family. There is also a category to showcase travel adventures across North America, such as an RV trip.
The grand prize is a $500 U.S. savings bond. Three runners-up will receive the prize of a U.S. National Parks Annual Pass.
Judging will be conducted by the board of the Imaging Alliance, an international non-profit representing photography companies and equipment manufacturers, as well as photo retailers and service providers. To bring photos to their best quality, Vivid-Pix is providing photo editing software to contestants.
For contest rules and to enter, visit http://www.crosscountryphotos.com. For more information about RVing with FMCA, please visit http://www.fmca.com.
FMCA is an international organization for families who own and enjoy the use of self-contained recreation vehicles (RVs). The association maintains its national headquarters in Cincinnati, Ohio, and currently has more than 143,000 active members. FMCA offers its members a number of benefits, including a subscription to its monthly magazine, Family RVing; a medical emergency and travel assistance program valued at $105 per family; a tire purchasing program; group rates on a roadside assistance program and on RV and auto insurance; and discounted rates for RV tours and caravans; and discounts on mobile internet access plans from Verizon and Sprint. Perhaps the most important benefit of FMCA membership is the camaraderie and friendships that develop among people enjoying the common interest of RV travel. The organization can be reached at (513) 474-3622 or (800) 543-3622 and on the web at FMCA.com.