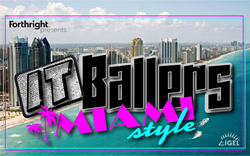 I'm an IT Baller, saving client's big dollars. Got Citrix needs? Then you only have'ta holler. When you need security, I'm your Rottweiler! IGEL's Platinum partner, coz we're leaders not the followers.
MIAMI, Fla. (PRWEB) May 08, 2018
Forthright Technology Partners, an award-winning provider of information technology engineering and enterprise managed services, is thrilled to announce the release of their first single "I'm an I.T. Baller (Miami Style)" in support of IGEL Technology's "I.T. Baller" contest . Both the song and video will premiere in IGEL's Booth (#202) at Citrix Synergy 2018, taking place May 8-10 in Anaheim, California and can be also be found at http://www.MiamiStyleIT.com
"I'm an I.T. Baller (Miami Style)" is a parody song that mashes-up hip-hop music and keen insights about how customers can become "I.T. Ballers" by delivering superior technology solutions and exceeding the expectations of their organizations.
The parody was penned and produced by Carl Gersh, Forthright's Director of Sales and Marketing. Performing on the track is Mr. Gersh, accompanied by Frank Merino, Forthright's VP of Professional Services – and features a solo from famed Miami rap star, Trace Marx.
The video was produced with consideration from IGEL, a world leader in endpoint management software for the secure enterprise. In 2018, IGEL is giving away $120,000 and helping IT pros become "I.T. Ballers" by demonstrating how they can improve operations, save money, and increase security when they leverage IGEL's innovative, software-defined endpoint computing solutions.
Through December 19, there will be six opportunities to win $20,000. The first IT Baller giveaway winner will be selected on Thursday, May 10 at Citrix Synergy 2018. To enter the IT Baller sweepstakes, participants must complete a short survey at http://www.MiamiStyleIT.com