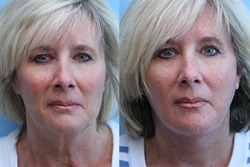 In most cases, plastic surgery remains the gold standard for improvements that last.
NEWPORT BEACH, Calif. (PRWEB) May 11, 2018
A May 3 article on Allure discusses an apparent increase in more invasive procedures which involve some amount of downtime, as opposed to "lunchtime" procedures involving injectables and other nonsurgical techniques which are typically very effective, but also temporary or which require numerous treatments over a period of months before results are apparent. One doctor attributes the change to millennials who may not have time for numerous visits to a cosmetic practitioner. Dr. Michael Jazayeri, a board certified plastic surgeon based in Orange County, says that the increasing number of options available to patients interested in improving their appearance is a very positive development and, for many, nonsurgical treatments offer a great deal of promise. However, he adds that there's also very little doubt that, in most cases, plastic surgery remains the gold standard for improvements that last.
Dr. Jazayeri says that so-called "chemical facelifts" such as Botox and facial fillers can, in fact, make a very large difference in an individual's appearance and can be performed very quickly with little or no additional interruptions of a patient's schedule. However, in order for the impacts to last, these treatments have to be repeated on a regular basis. On the other hand, a facelift, known medically as rhytidectomy, obviously requires a great deal more preparation and some recovery time, but patients are typically delighted and their results can last for decades.
Other plastic surgeries, says Dr. Jazayeri, are simply able to do things that – at least right now – nonsurgical treatments are unable to replicate for any length of time. For example eyelifts (blepharoplasty) can deal with bags under the eyes or droopy eyelids in a permanent way that cosmetic treatments can't begin to approach. Of course, says the doctor, for the rest of the body, very few nonsurgical treatments currently exist that can have any impact at all. The good news, says Dr. Jazayeri, is that every year plastic surgeons are learning more and more about how to produce the best possible results with the smallest amount of downtime. He adds that, whether patients are interested in a facelift, rhinoplasty or a breast augmentation, plastic surgery has never been more effective or safer.
At the same time, popularity aside, Botox, facial fillers, and other treatments really can make a big difference that will help patients feel better about themselves, says Dr. Jazayeri. It's up to patients and their doctors to decide exactly what's best in their individual circumstances, he adds.
Dr. Michael Jazayeri offers both plastic surgeries and the latest in nonsurgical procedures. To find out more, please call 714-834-0101 or visit his office online at http://www.drjaz.com. Dr. Jazayeri has offices covering both North Orange County and South Count; one is located in Newport Beach and the other in Santa Ana.