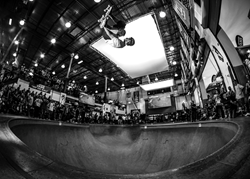 This is the greatest event of the year. The crowd is super loud, everyone comes out and everyone goes off. It's just the best contest and I'm really happy right now - Tom Schaar
ORANGE, Calif. (PRWEB) May 07, 2018
Monster Energy congratulates Tom Schaar on taking first place in the Pro Division at the 13th annual Vans Pool Party contest, making history by winning the high-profile event for the third time in his young career. In front of a roaring crowd at Vans Skate Park in Orange, California, the 18-year-old from Malibu emerged on top of a field of the world's best bowl riders – winning the coveted trophy.
Now in its 13th year, the Vans Pool Party is one of the most established and respected competitions on the pro skateboarding calendar. Over 40 of the world's top pros battled for the win in the Pro Division today, joined by the icons of vertical pool-riding history in the Legends Division.
The action culminated in the Pro finals, Schaar faced a stacked field of nine top vertical skateboarders. The level of competition was at an all-time high, as Southern California ripper Cory Juneau raised the bar on his first run by posting a hard-to-beat 94.33 point score.
Rising to the challenge, Schaar put together a highly technical run, starting with a high-flying backside 540 in the deep end, followed by high-speed frontside feeble grind, kickflip Indy, frontside nosegrind to lipslide, noseslide to fakie, Caballerial to backside disaster, and alley-oop backside lipslide in the deep end, plus frontside ollie blunt on the "peninsula" hip and a tall ollie to frontside Smith for a 94.67 point score and his third Pool Party win.
"This is the greatest event of the year," said Schaar. "The crowd is super loud, everyone comes out and everyone goes off. It's just the best contest and I'm really happy right now."
Every year, the Vans Pool Party provides a multi-generational showcase of deep bowl riding in the legendary Combi Pool. The twelve-feet deep vertical structure is a replica inspired by historic Upland Pipeline Skatepark, known as one of the hotbeds of 1980s progression in vertical skateboarding. Icons such as Chris Miller, Lance Mountain, Steve Caballero, and Steve Alba laid the foundation for modern-day vertical skateboarding at Upland, and brought history full-circle today by competing in the Legends Division.
Today also marks Schaar's first contest win after turning pro on Element Skateboards in February 2018. Having grown up as a local at Skatelab skatepark in Simi Valley, Schaar already made history at the age of 12 by landing the world's first 1080 aerial on a skateboard. He began competing in the X Games that same year and has since evolved from Mega Ramp prodigy into a well-rounded competitor on the vertical skateboarding circuit. Last year, he won the Vans Pool Party and finished his 2017 Vans Park Series (VPS) season at the top of tour rankings after placing third in the VPS Men's World Championships in Shanghai. Schaar achieved another unprecedented feat in 2017 by becoming the first X Games athlete to medal in both Big Air and Skate Park events at X Games Minneapolis.
Download Photos for Editorial Use.
Schaar will be kicking off the Vans Park Series 2018 season in a few weeks in Sao Paulo, Brazil on June 2nd, and will be competing at X Games Minneapolis taking place this July 19-22. Also make sure to tune in on May 26-27, when Schaar's Monster Energy teammates Ishod Wair, Kyle Walker and Matt Berger take on the Street League Skateboarding Pro Open at Copper Box Arena in London, UK.
Find more information on http://www.monsterenergy.com and follow Monster Energy on Facebook, Instagram, Twitter for exclusive updates.
###
About Monster Energy
Based in Corona, California, Monster Energy is the leading marketer and distributor of energy drinks and alternative beverages. Refusing to acknowledge the traditional, Monster Energy supports the scene and sport. Whether motocross, off-road, NASCAR, MMA, BMX, surf, snowboard, ski, skateboard, or the rock and roll lifestyle, Monster Energy is a brand that believes in authenticity and the core of what its sports, athletes and musicians represent. More than a drink, it's the way of life lived by athletes, sports, bands, believers and fans. See more about Monster Energy including all of its drinks at http://www.monsterenergy.com