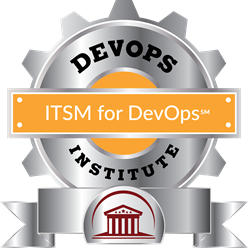 Organizations adopting a DevOps culture and practices are able to deliver high-quality software faster, which means the business can deliver value to customers faster
BOCA RATON, Fla. (PRWEB) May 09, 2018
The DevOps Institute (DOI), the Continuous Learning Community around emerging DevOps practices, education and certification, is proud to announce the launch of a new non-certification course: ITSM for DevOps. This course describes how to adapt IT service management (ITSM) processes in support of DevOps. Learners will learn pragmatic approaches for streamlining and automating existing ITSM processes and handling compliance as code. ITSM for DevOps is the second in a series of non-certification "DrillDown" courses offered by the DevOps Institute and is a complement to its line of DevOps Practitioner® certification series. All courses are delivered by DOI's global channel of Registered Education Partners.
The ITSM for DevOps course introduces ways to achieve both speed and control while driving value across the IT value stream. The course was authored by Donna Knapp (@ITSM_Donna), a writer, lifelong learner, teacher and certified process professional, and author of several publications, such as "A Guide to Customer Service Skills for the Service Desk Professional," and "A Guide to Service Desk Concepts" and "The ITSM Process Design Guide."
"Organizations adopting a DevOps culture and practices are able to deliver high-quality software faster, which means the business can deliver value to customers faster," says Knapp. "ITSM processes are vital to organizations achieving this success but they must be adapted."
ITSM process owners, process managers, stakeholders, IT transformation leaders, coaches, managers, consultants guiding their clients through DevOps-related process improvement initiatives, and anyone interested in modernizing ITSM processes in support of a DevOps or digital transformation will find this course particularly helpful as they explore key ITSM for DevOps topics, including:

The DevOps transformation
How ITSM is viewed as a constraint
How DevOps introduces new ways of thinking and working
How to adapt key ITSM processes in support of DevOps
ITSM process integration and automation
How to leverage Lean and Agile methods to reduce waste and positively impact both the cost and quality of processes and services
The DevOps Institute is actively developing future DrillDown courses. This series of non-certification workshops "drills down" more deeply into a topic or practice. DrillDown courses are very focused and provide more prescriptive guidance and practical experience for the learner. These courses are designed as complementary "plugins" to DOIs existing certification portfolio or as continuous learning opportunities for individuals who may not need to seek additional certification. DOI's global network of education partners will offer the DrillDown courses as bundles or as stand-alone offerings.
About the DevOps Institute
The DevOps Institute is the global continuous learning community for emerging DevOps practices. DevOps Institute's vision is to facilitate a community where members have access to the most innovative, inspirational and transformational DevOps content, courses and certifications around emerging DevOps practices and principles. We strive to provide content that inspires discussion, collaboration, and transformation.
Web | http://devopsinstitute.com/
Twitter | @DEVOPSINST
LinkedIn | /devops-institute
Facebook | /DevOpsInstitute/
YouTube | DevOps Institute
Instagram | /devopsinstitute/