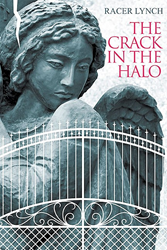 "A stunning tour de force about life in a nunnery that few will ever experience." - Robert Fletcher, CEO of Strategic Book Publishing and Rights Agency
NEW YORK (PRWEB) May 10, 2018
This deftly written story respects the memory of so many nuns who went to their graves as victims of abuse.
Irish writer Racer Lynch takes on the controversial subject of abuse in a nunnery in her life-affirming novel "The Crack in the Halo." The harsh journey of 10 young Irish women who enter a religious institution in Ireland in 1966 is meticulously told, as they prepare themselves for a life of dedication and service.
But life in the convent proves challenging right from the beginning, when they face continual bullying and discrimination perpetuated by an authoritarian system. The nun in charge puts them through a daily crucible of cruelty, invoking severe punishment for the smallest perceived infraction. Several of the 10 women develop ways to cope. Others are not so lucky.
Only the strongest emerge intact after their grueling initiation. "Nun" but the tough can survive.
About the Author: Racer Lynch was born in Derry, Northern Ireland, and is a lawyer. "I felt I had done a great service to the thousands of nuns who have gone to their graves without ever being able to disclose their difficult journeys as they struggled in an environment determined to strip them of their dignity and robbed them of their youth."
"A stunning tour de force about life in a nunnery that few will ever experience. We are very proud to be the publisher." – Robert Fletcher, CEO of Strategic Book Publishing and Rights Agency.
THE CRACK IN THE HALO (ISBN: 978-1-948260-61-9) is now available for $16.95 and can be ordered through the publisher's website:
http://sbprabooks.com/RacerLynch or at Amazon.com or Barnesandnoble.com.
WHOLESALERS: This book is distributed by Ingram Books and other wholesale distributors. Contact your representative with the ISBN for purchase. Wholesale purchase for retailers, universities, libraries, and other organizations is also available through the publisher; please email bookorder(at)sbpra.net.