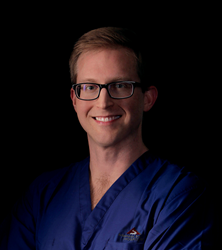 Spine technology and surgical techniques are improving for the better, allowing patients to undergo surgery with less anesthesia time, less post operative pain, shorter recovery time, and a faster return to life. -Dr.Phillip Porcelli
LITTLE ROCK, Ark. (PRWEB) May 15, 2018
Arkansas Surgical Hospital is expanding its roster of highly-skilled spine surgeons with the addition of Phillip M. Porcelli, D.O., FACOS.
Dr. Porcelli returns to Arkansas and joins Dr. Brad A. Thomas at Little Rock Neurosurgery Clinic in conjunction with Arkansas Surgical Hospital. He specializes in spine surgery, treating the patient as a whole, not just the symptoms.
Dr. Porcelli holds Gamma Knife certification from the University of Pittsburg and is a member of the American Osteopathic Association, Congress of Neurological Surgeons, and North American Spine Society. He is a member of the American College of Osteopathic Surgeons and was one of the youngest neurosurgeons to achieve the distinction of Fellow. He is also board certified by the American Osteopathic Board of Surgery.
Believing in a conservative approach to spine problems, Dr. Porcelli utilizes numerous surgical and non-surgical therapies in his practice. He does not believe in a "one size fits all" approach to spine conditions.
"I choose to practice spine surgery because it is innovative, challenging, and constantly evolving," said Dr. Porcelli. "It gives me a chance to improve the quality of life for my patients. I am energized by them and committed to treat each one with respect, dignity, and compassionate care I'd give my family. Every patient is unique and treatment should be designed and tailored to the individual."
ABOUT ARKANSAS SURGICAL HOSPITAL
Arkansas Surgical Hospital is a leader in orthopedic and spine surgery. As a physician-owned and patient-centered hospital located in North Little Rock, Arkansas it provides excellent surgical outcomes for patients. Because the hospital's owners are surgeons, there is a disciplined focus on safety and a total commitment to the care and comfort of patients and their families.
To learn more about Arkansas Surgical Hospital, visit http://www.arksurgicalhospital.com.
Social Media
Facebook: https://www.facebook.com/ArkansasSurgicalHospital
Instagram: https://www.instagram.com/arksurgicalhospital/