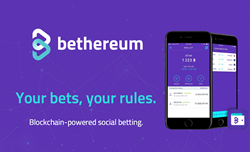 "Bethereum is breathing new life into the world of betting, by combining blockchain and gamification to deliver the most secure and engaging social betting experience..."
JUPITER, Fla. (PRWEB) May 09, 2018
In an upcoming episode of Advancements with Ted Danson, the series will focus on how blockchain technology can be used to enable safe and transparent social gaming. This episode is scheduled to broadcast in Q4 2018. Check your local listings for more information.
This segment will educate about Bethereum; an innovative gaming platform enabling players to wager on events with other players, without any middleman. Viewers will learn how Bethereum operates as a fully decentralized, secure solution built on Ethereum Smart Contracts.
"Bethereum is breathing new life into the world of gaming, by combining blockchain and gamification to deliver the most secure and engaging experience," said CEO of Bethereum Giacomo Tognoni. "We want to bring fun and fairness back to wagers, and we're excited to have been chosen by Advancements as a leading innovator in this growing industry."
The show will highlight how Bethereum leverages blockchain technology and intuitive design to enable players to create and join wagers. It will also enlighten viewers about the potential for future platform developments, aimed at providing significant advantages also to business operators and third-party developers. Advancements will finally showcase how wagers are carried out using Bether, the digital token powering the entire Bethereum solution.
"The blockchain is the perfect technology to support this revolution in gaming," said Michael Devine, senior producer and content development lead for the Advancements series. "Within Bethereum, transactions are secured by cryptography and governed by Smart Contracts on the Ethereum blockchain. All financial movements are recorded on the blockchain and remain transparent and viewable for each participant. We look forward to exploring this platform on our show."
About Bethereum:
Bethereum aims at redefining the online gaming industry by combining cutting-edge technology with innovative social and gaming elements. In Bethereum, players wager with friends and other players, not against a bookmaker. Blockchain and Smart Contracts ensure full transparency and security, while superior design and gamification deliver a truly rewarding experience.
For more information, visit: http://www.bethereum.com
About Advancements and DMG Productions:
The Advancements series is an information-based educational show, targeting recent advances across a number of industries and economies. Featuring state-of-the-art solutions and important issues facing today's consumers and business professionals, Advancements focuses on cutting-edge developments, and brings this information to the public with the vision to enlighten about how technology and innovation continue to transform our world.
Backed by experts in various fields, and a team dedicated to education and advancement, DMG Productions consistently produces commercial-free, educational programming on which both viewers and networks depend. For more info, please visit: AdvancementsTV.com.