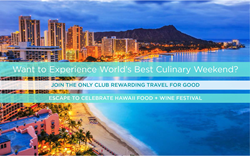 We Love to Help Fund Small Group Travel, Because Friends Don't Let Friends Party Alone
SANTA MONICA, Calif. (PRWEB) May 09, 2018
'We Party for Good' is a fun and purposeful travel reward for busy professionals that make a difference in the community, at home, and at work. And love to enjoy global travel with friends to celebrate life.
According to Recruiting for Good, Founder, Carlos Cymerman, "We created the collaborative and personal small group travel funding service, because friends don't let friends party alone."
How to Participate in We Party for Good Group Funding?
1) Attend a Creative+H20 Party in Santa Monica, to meet in person, and get know the founder, Carlos.
2) Once the team verifies that the group of friends makes a difference.
3) The group is invited to participate in group funding travel service.
What Types of Small Group Travel is Funded
Recruiting for Good is funding just 100 meaningful party trips.
Small group travel (4-10 people), who make a difference, and live in L.A.
1) Celebrate an anniversary, bachlorette, birthday, happily divorced party, girlfriend (mom) getaway, or support a friend (athlete competing in a championship).
2) Adventure Tours, Cruises, Events (Competitions, Foodie Festival, Music, Sports), Flights, and Hotels.
Carlos Cymerman adds, "Our fun mission is to reward travel for good…because when we love life the party never ends."
About
Recruiting for Good since 1998 has been connecting talented Accounting/Finance, Engineering, and IT professionals to great jobs. "We support Our Moms Work, a fun community service." And reward referrals with travel to celebrate life.