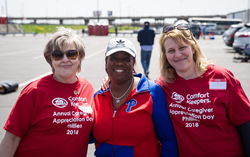 These are extraordinary people in so many ways and to be able to bring everyone together for some fun, to get to know each other and share their experiences while at the same time, showing our appreciation in such a fantastic venue as this, is spectacular."
ORELAND, Pa. (PRWEB) May 09, 2018
Almost 300 caregivers and office staff enjoyed a day of fun at the Philadelphia Phillies game on Saturday, April 21.
Comfort Keepers Home Care in Oreland, PA, hosted the 2nd Annual Caregiver Appreciation Day at Citizens Bank Park. There were fun activities for the whole family during a pregame tailgate. Kids enjoyed games, balloon animals, face painting, and a dance contest.
The event was started to celebrate caregivers in Montgomery, Delaware and Main Line counties who take care of others every day. "These are extraordinary people in so many ways and to be able to bring everyone together for some fun, to get to know each other and share their experiences while at the same time, showing our appreciation in such a fantastic venue as this, is spectacular," said Ian Bongaardt, Owner of Comfort Keepers in Oreland, PA.
It was an extra special day for two caregivers. Sheila Jamison, the 2017 Caregiver of the Year, threw out the first pitch, while Doreen Mends won two tickets to the Phillies suite.
The Phillies won the game 6-2 with help from a homerun by Rhys Hoskins, making it two years in a row he's hit a homerun on Caregiver Appreciation Day.
Caregiver Appreciation Day was sponsored by Brinker Simpson, ChoiceLocal, Glatfelter, and Results Driven Marketing.
About Comfort Keepers Home Care
Comfort Keepers Home Care provides our clients with the highest level of quality of life that is achievable. Through a combination of personalized home health care services and the devotion of our compassionate caregivers, we allow seniors to age in the comfort and privacy of their own home. For more information about our services or about becoming a caregiver for Comfort Keepers in Oreland, PA, visit http://oreland-811.comfortkeepers.com/.