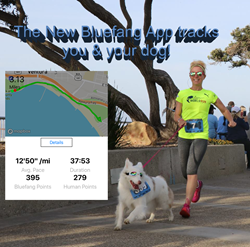 VENTURA, Calif. (PRWEB) May 12, 2018
Saturday, May 5th High Tech Pet Products, Inc. released the BF-30, a new and improved all-in-one collar that functions for remote dog training, bark control, indoor/outdoor invisible electronic fence containment, automatic pet door control, & activity tracking. To kickstart the powerful new Bluefang app the company sponsored the "Bluefang 5/10K Dogathon" at Ventura, CA Beach on May 5, 2018. 209 dogs and 325 humans competed in the race to support the local canine rescue organization and to introduce the new BF-30 smart phone controlled supercollar and running app. Each dog was given a racing bib and timing chip. All race times were posted with prizes for Top Human and Top Dog racers. Each dog also wore a BF-30 performance tracking collar.
Although the Bluefang app works just like a Garmin or Nike run app (where the runners pace, splits, miles, and duration are tracked), it is the only activity app that measures both the runner and their dog's activity at the same time! With 2 patents granted and 3 patents pending, the Bluefang 30 collar is the best collar on the market!
The BF-30 is the only collar that gives you remote training with multiple command tones, clicker, vibration and stimulus with bark control, electronic fence containment and daily fitness tracking with activity and calorie burn AND... now our new race mode feature that allows you to track your dog's activity and your own as you run with your dog. Race mode shows you real-time pace, distance, calorie burn and "Bluefang Points" for both you and your dog. Bluefang points give you a seriously fun way to evaluate your performance and set goals. You get points as you run. Points increase as you increase your pace and distance. Larger dogs, and people, get more points if they weigh a little more. Set goals, see how you and your dog are doing compared to other runners, even compete with your dog. The new Bluefang BF-30 Super Collar is the perfect wearable technology for any dog (and dog owner) who likes to run (or needs to get up off the couch every once and a while).
High Tech Pet reports that the success of the very first Bluefang Dogathon was due to the easy-to-use new app, the eagerness of pet owners to try the Bluefang 30 (which they did for free at the race), & of course the cooperation of all 209 dogs that raced! The new Bluefang app can be downloaded on the App store or Google Play.