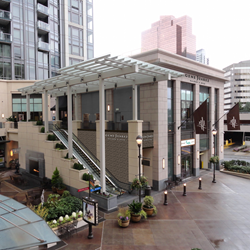 The space is gorgeous...but I am more proud of our people, of how they have moved in and made the space their own.
BELLEVUE, Wash. (PRWEB) May 10, 2018
Multiple award-winner Gene Juarez Salons & Spas is proud to announce that its new salon and spa at The Shops at the Bravern has been chosen as the 2018 Salon of the Year Grand Prize winner and May/June cover story by national publication Salon Today. The award recognizes the highest level of salon and spa design, with the Grand Prize winner selected from hundreds of submissions nationwide.
The company is honored to be recognized as its members keep pursuing their passion for making clients look and feel incredible.
"We are more than humbled to receive such a prestigious award," enthuses Gene Juarez Salons & Spas President and CEO, Scott Missad. "It speaks volumes to the commitment our staff has made to deliver excellence in beauty and wellness on a daily basis."
Designed to be a New York loft meets Pacific Northwest, the 16,500 sq. ft. of space is full of green, blue and yellow hues and serves clients with 60 stations, a sequestered shampoo 'oasis' set in a serene forest scene, 10 treatment rooms, expert medical spa services, manicure and pedicure stations and a private men's salon offering beer on tap. From the numerous windows and soft lighting to the subdued music and colors, all the areas are designed to provide the ultimate salon and spa experience.
"We are in the process of revitalizing the Gene Juarez brand, and my edict to the team was to create a space that was meaningful to all age groups and accessible by any clients who prioritize beauty and wellness," said Missad.
From integrating the color and style stations and consolidating to a single front desk area to enabling self-check-in and mobile check-out, the entire space is designed for not just a beautiful visual and sensory experience, but one that is also efficient, smooth and convenient.
"The space is gorgeous," Missad said, "but I am more proud of our people, of how they have moved in and made the space their own."
Showcasing salons that have been newly opened or recently renovated each year, Salon Today's annual interior design competition is also held to encourage the sharing of great ideas and help salons and spas grow and excel. 20 finalists are selected from photo submissions, with the Grand Prize winner declared Salon of the Year.
About Gene Juarez Salons & Spas
Proudly owned and operated in the Pacific Northwest since 1971, the first Gene Juarez Salon was opened by Mr. Juarez in downtown Seattle as the city's first contemporary fashion salon. Since then, through commitment and dedication to clients, artistry and innovative education, Gene Juarez Salons & Spas has grown to 10 salon and spa locations and two state-of-the-art cosmetology schools in Washington. Gene Juarez remains committed to service of both client and community.