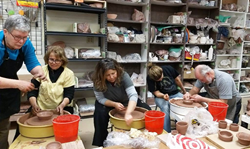 "This introductory class is a perfect way for participants to try making clay pieces using the potter's wheel and work for an evening with experienced potters without investing a lot of time and money to take a beginner's class."
FREDERICK, Md. (PRWEB) May 09, 2018
The Potters' Guild of Frederick (PGF) is a cooperative group of ceramic artists who provide ceramic art for sale to the Frederick Community through the PGF Gallery on 14 S. Market Street, Frederick, MD. In addition, PGF is now holding introductory potter's wheel classes on the 2nd Saturday of each month for the remainder of 2018. "Take a Turn at the Wheel" is taught by members of PGF at the Frederick Clay Studio located at 119 N. East St., Frederick, MD from 6-9 pm.
Details of Take a Turn at the Wheel
The mission of PGF is to promote high standards in ceramic art, to exchange ideas, and to stimulate community interest in the ceramic arts. To support this mission, PGF displays and sells the work of its members in its Gallery, including jewelry, functional, decorative and sculptural pieces. Lucinda Leaman, Secretary and Public Relations Chair for the Guild explained, "This year the Guild is seeking to expand its hands-on outreach to the community. This introductory class is a perfect way for participants to try making clay pieces using the potter's wheel and work for an evening with experienced potters without investing a lot of time and money to take a beginner's class." The cost of the evening is $100 and includes all materials, equipment, instruction, two firings and glazes. Completed pieces are usually ready to pick up 3-4 weeks after the event.
About the Potters' Guild of Frederick
PGF is a non-profit provider of ceramic education, artistic cooperation, and congenial clay camaraderie to the community of Frederick. PGF is open to all interested individuals in the community. Members have the option of participating in PGF's Gallery to share and sell finished work with local residents and visitors to Frederick. Available at the Gallery are unique, handmade, and locally produced options for home décor, special gifts and unique items for the kitchen. PGF provides not only clay education, but small business and craft fair expertise to the membership. Monthly meetings are typically held at the Common Market and are open to the public. The PGF Gallery is located on 14 S. Market Street in Historic Downtown Frederick and is open Wednesday through Sunday. For more information, visit http://www.pottersguildoffrederick.com .