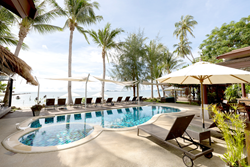 (PRWEB) May 09, 2018
This milestone has been possible due to the interest and enthusiasm from thousands of visitors worldwide, who come for personal well-being and transformation, returning again and again, based on an authentic delivery of practices and a place set up to find balance again in one's life. Simply put, Samahita encourages people to breathe into a new life. To acknowledge this Samahita is announcing a 15-year celebration, to take place on 20th July, 2018, with special guest Sri O.P. Tiwari, and well known Irish musician, Jack Harrison.
Supporting Guests through Guided Practices and an Upgraded Center
Samahita, located directly on Laem Sor beach at the quiet southern end of Koh Samui, supports its guests through a team of trained teachers in all yoga, health and fitness practices, as well as totally devoted to offering a place that supports personal change through the space itself, the food and the people involved. To that end every guest can take all of, or pick from, any of the 5 hours of upgraded classes a day across meditation, breathing, yoga practice, core work, cardio, as well as a fresh experience in Samahita's renovated facilities from sustainable materials, including:
● Refreshed, modern rooms
● Renovated lounge area
● Juice bar upgrades—offerings and service area
● Organic and lite menu options available daily on the buffet
● Top-of-the-range Sunlighten Full Infrared Sauna technology
● General modifications to increase comfort and ease all around the property
Updated Website, Rates in USD, for the Highest Quality at the Best Value
To match its onsite upgrade Samahita Retreat recently launched a new website, to coincide with its 15th anniversary, that clearly highlights the range of programs available in a user-friendly, engaged format that one can easily and intuitively navigate from smartphones, tablets or laptops. It also features recent high definition photos and more detailed information about upcoming retreats. Even more to come soon with new video content.
Thinking of the customer Samahita has lowered all rates between 3% and 15% based on the program, with key signature programs such as YogaCoreCycle, Detox and Wellness being the most significant, with rates now in USD. Samahita aims to be the best value in its class - quality of programs, harmony and cleanliness of the space, and value in price.
About Samahita Retreat
Established in 2003, Samahita Retreat is an intimate yet vibrant beachfront retreat center hidden away from Thailand's busy tourist areas. Owned and directed by scientist, yogi and teacher, Paul Dallaghan, the retreat is a friendly and inclusive spot for yoga and fitness holidays, yoga teacher training, detox, wellness programs, or simple relaxation - perfect for newbies looking for a way to get started in these methods, and known by those experienced as a place for expert guidance.
Samahita Retreat is located at 55/20-24 Moo 4 Namuang, Koh Samui, Surat Thani 84140, Thailand. To learn more, visit the website at http://www.samahitaretreat.com, or email info(at)samahitaretreat.com.