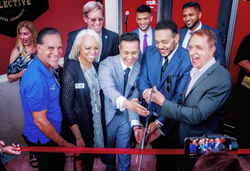 "We need to invest in small businesses, technology, and innovative thinkers, not just the tourism and related fields South Florida has become known for." - Mayor Dean Trantalis (Ft. Lauderdale)
FORT LAUDERDALE, Fla. (PRWEB) May 09, 2018
It's been a busy few weeks for Collective Ventures now that they have officially Grand Opened on April 20th 2018. They had an amazing turn out of roughly 400 people attend an all day event to showcase their concept to the neighborhood and the city of Ft. Lauderdale. With Live Music performed by The Cast Band, BBQ and Ice Cream stations, a Pet Adoption Station hosted by Feeling Fine Canine and Equine Rescue that saw 4 of 7 dogs get adopted, face painting, balloon animals, and more, it was fun for everyone.
The Ceremony was lead by the Ft. Lauderdale Chamber's Chairman Juliet Murphy Roulhac of FPL, and Chamber President & CEO Dan Lindblade, both of whom shared their love for the concept and their plans to work with Collective Ventures to build more business resources in Ft. Lauderdale.
Ft. Lauderdale Mayor Dean Trantalis spoke highly of the vision, and expressed the need to push past current investment strategies in South Florida stating, "We need to invest in small businesses, technology, and innovative thinkers, not just the tourism and related fields South Florida has become known for." Hallandale Mayor Keith London, a friend to Brian stated, "With this sort of innovative thinking, we would love to Brian and his team share this with our city, and bring the next Collective Ventures to Hallandale."
Founder Brian Jacob reiterated what he shared in his recent interview with Voyage Miami, "We are a resource that can be used in any way. Whether it's to Co-Work in a space that was just voted Best Co-working space in Ft. Lauderdale by Coworker, to enjoy community based events such as Music Jams, or Raw Story Telling. business resources, or an investment, we have what you need." Founder Dhiraj Thareja thanked the 16 companies in the business innovation center, as well as our Venture team that can help your business get of the ground by accelerating or investing in them. "It's not a Collective without our members who have been integral to our vision and our growth. To also invest in 5 Broward based companies will help continue to pave the startup scene in Ft. Lauderdale," Raj stated.
Fellow business partners Brijesh Mannattuparampil and Alex Mathai echoed the sentiment and added how the Social events done here help bridge the gap with the community and the arts, and how the Startup/Entrepreneurial efforts would bring more talent to the area.
In fact Alex who recently shared his Business Consulting at Collective Ventures with Voyage Miami, spearheaded the Techstars Startup Weekend at Collective Ventures. A 3-day, 54-hour startup weekend that saw 50+ participants create 12 startup teams. The top 6 pitched on Sunday, May 6th. Brian, along with Tim Hasse of General Provision, Mike O'Donnell of Startupbiz.com, Rhys Williams of FAU Tech Runway, and Kathy Chiu of The Fan Fund Venture Capital judged the event. A winner emerged after much deliberation called Tik'd Off. A parking ticket contesting and payment mobile platform.
Learn more about the events being hosted at Collective Ventures by visiting their website.