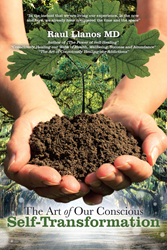 NEW ORLEANS (PRWEB) May 09, 2018
Each of us strives to create the best possible version of ourselves, but that can be a daunting task. Oftentimes, we ponder "what does that version look like and what is required to achieve this ideal?" Dr. Raul Llanos has combined personal and professional experience to provide insight into the universal questions and lead others down a path of inner reflection.
Llanos presents a remarkable and profound set of four self-help books geared toward people of all walks of life including "The Power of Self-Healing," "Consciously Healing Our Webs of Health, Wellbeing, Success and Abundance," "The Art of Consciously Healing Our Addictions," and "The Art of Our Conscious Self-Transformation."
This series of impactful reads provides vital lessons focused on searching within one's self, discovering one's true purpose and taking responsibility for our actions. Each message highlights central themes for helping one grow, becoming a better person and enjoying overall wellbeing in life.
With his works, Llanos hopes to share the power of one's conscious self-transformation as well as inform readers that we are in charge of our perceptions and that we create our own reality.
"We all have the capacity to shape our lives into something great," Llanos said. "Self-transformation is a powerful and natural development for each of us. With my book series, I provide the tools and techniques for readers to make the most out of the process and move their lives in a positive direction."
To learn more about the book, please visit http://www.consciouslyselftransformation.com or check out this YouTube video. To learn more about Llanos' practice, please visit http://www.raulllanosmdmedicalspa.com.
"A Special Message from "The Art of Our Conscious Self-Transformation"
By Raul Llanos, MD
Available at Amazon, Barnes and Noble and Balboa Press
About the author
Raul Llanos, MD, was born in Colombia, South America. He received his medical training at the Universidad del Valle in Cali, Colombia; Lutheran Medical Center/Metropolitan General Hospital in Cleveland and at Charity Hospital, Tulane Division, in New Orleans. Llanos has been in private practice for more than forty years and is an Assistant Clinical Professor at the OB-GYN Department at Tulane and a Tulane Medical School Clinical Instructor at Tulane School of Medicine in New Orleans.
He is certified by the: American Board of Obstetrics and Gynecology, American Board of Medical Hypnosis, American Board of Urgent Care Medicine Board, American Board of Pain Management, American Board of Anti-Aging and Regenerative Medicine and American Board of Integrative Medicine.
Review Copies & Interview Requests:
LAVIDGE – Phoenix
Kalin Thomas
480-648-7540
kthomas(at)lavidge.com
###