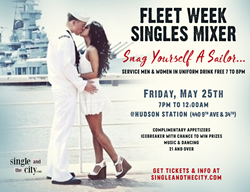 Knowing they are shipping off in a couple days takes the pressure off of them calling the next day.
NEW YORK CITY (PRWEB) May 09, 2018
Made famous by Carrie Bradshaw of Sex And The City, each year thousands of single Sailors, Marines and Coastguard men and women descend upon Manhattan for a week of freedom, booze and patriotic frolics.
Fleet Week 2018 is hitting NYC Wednesday, May 23rd through Tuesday, May 29th and NYC-based dating service, SingleAndTheCity.com is hosting a singles party Friday, May 25th in effort to help single ladies snag themselves a serviceman. Quiet Events, another local party company is hosting a silent disco free to service men and women in uniform on Saturday, May 26th, 11pm to 3am at Stage 48.
"We are known for our "themed" singles parties," explains SingleAndTheCity.com Co-Founder, Amber Soletti. "We host Fireman Singles Parties, Cougar Hunts, Hot or Not Mixers and more. We hosted our first ever Fleet Week parties last year and it was a hit. We're excited to bring it back this Fleet Week and are expecting another great turn out."
Women can meet their knight in shining "Tide-white" armor Friday, May 25th with festivities kicking off at Hudson Station at 7pm sharp. There will be complimentary appetizers, drink specials, icebreakers to facilitate introductions, music and dancing. Austin City Limits performer, DJ AR will be spinning all night starting at 9pm. Service men and women in uniform drink free from 7 to 8pm.
"I am so psyched for this event I already got my tickets," says NY single Samantha Jacobs (33). "I'm not looking for a long-term relationship and have always wanted to hook up with a sailor. Knowing they are shipping off in a couple days takes the pressure off of them calling the next day."
WHAT: Fleet Week Singles Party
DATE: Friday, May 25th
TIME: 7pm to midnight
WHERE: Hudson Station (440 9th Ave & 34th street)
REGISTRATION & COST: Pre-registration at SingleAndTheCity.com
Women: $20.00 online /$40.00 at the door (pending availability)
Servicemen and women in uniform pay $10.00 online/at the door
WHAT: Fleet Week Silent Disco @Stage 48
DATE: Saturday, May 26th
TIME: 11pm to 3am
WHERE: Stage 48 (605 W 48th St. New York, NY 10036)
REGISTRATION & COST: Pre-registration at QuietEvents.com
Tickets range from $15-40 depending when you purchase
Servicemen and women in uniform get in free
SingleAndTheCity.com is a new dating event concept created for savvy, swinging, city-dwelling singles who are tired of events geared to traditional criteria, like age range, income and personality IQ. What sets SingleAndTheCity.com apart is its ability to foster personal connections: Events match participants with other singles who share similar interests, backgrounds, quirks–even fetishes–and a passion for meeting new people and having fun. This online company produces singles parties, networking events, speed dating, wine tastings, dating advice and much more for singles of all orientations across Manhattan and the five boroughs.
Founded in August 2012, Quiet Events® offers city-dwellers and tourists of all ages and orientations an innovative NYC club and party experience like none other. The company offers headphone rentals across the US and produces Quiet Clubbing Parties, Tours and Events in the New York Metro Area, Austin, San Francisco, Los Angeles, Ottawa, and Toronto. Great for any occasion, (partying solo, with friends, birthday celebrations, a girl's night out) Quiet Events are hosted at NYC clubs, lounges, out-door venues and even on subways throughout the city. Events are hosted almost weekly and run $15-50.00, depending on the event. Quiet Events®, a privately held company headquartered in Queens, NY. For more information visit QuietEvents.com.